RP Embassy in Tokyo Receives ¥317,382 Donation from Staff of Nerima City Office for Typhoon Ondoy Disaster Relief Efforts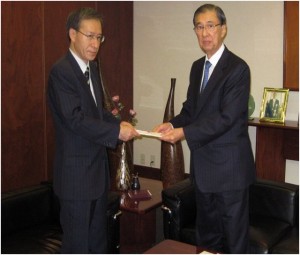 16 November 2009 – The Philippine Embassy in Tokyo received on 13 November 2009 a JPY 317,382 (approximately PHP 158,000) voluntary cash donation from the Staff of Nerima City Office as humanitarian assistance for the victims of Typhoon Ondoy.
The donation was officially handed over to Ambassador Domingo L. Siazon, Jr. by Mr. Sho Nishimura, Section Chief of the Internal Affairs Section of Nerima City Office.
Ambassador Siazon expressed appreciation for the generosity of the Staff of Nerima City Office.
Nerima City is located in the northwestern part of Tokyo, and the fifth largest of Tokyo's 23 special wards. It is known as the birthplace of Japanese animation, with living culture and rich natural greenery.