Philippine Embassy in Tokyo Commemorates Rizal Day 2022 At the Marker and Bust of Dr. Jose Rizal at Hibiya Park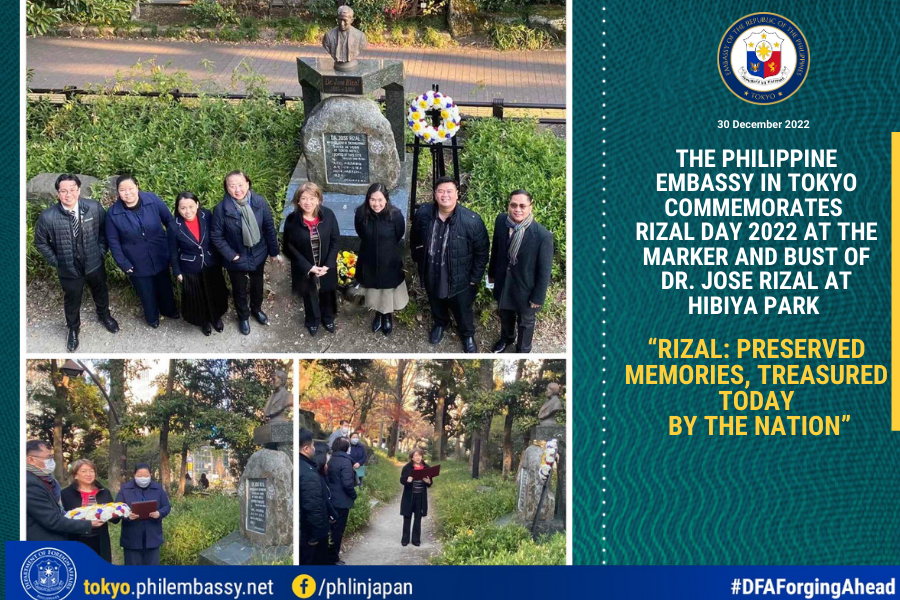 30 December 2022 – Philippine Embassy officials headed by Ambassador Mylene J. Garcia-Albano commemorated the 126th Anniversary of the Martyrdom of Dr. Jose Rizal on 28 December 2022. This year, the commemoration was held at Hibiya Park in Chiyoda City,Tokyo.
Ambassador Garcia-Albano led a wreath-laying ceremony in front of the stone marker and bust of Dr. Rizal at the park. The stone marker was built in 1961 through the efforts of the organizations the Knights of Rizal, the Rizal Society of Japan and Friends of Rizal. The bust of Dr. Rizal was added in 1998 during the celebration of the Philippine Centennial.
In her message during the ceremony, the Ambassador stated that these structures exemplify the message of this year's Rizal Day theme: Rizal: Preserved Memories, Treasured Today by the Nation (Rizal: Alaalang Iningatan, Yaman Ngayon ng Bayan) because it shows the efforts of those who made it possible to document and leave a remembrance of Dr. Rizal's brief but happy stay in Tokyo in 1888 before continuing on his journey abroad. And, she noted the added symbolism behind the name of Hibiya Park whose first two characters are the same first characters for the kanji name of Japan and the Philippines.
The Ambassador also shared a quote from one of the letters of Dr. Rizal to his family, "I have stayed here longer than I intended, for the country seems to me very interesting and because in the future we shall have much to do and deal with Japan." These words came into fruition with the golden age of Philippines – Japan relations. In line with this, the Philippine Embassy will continue in its efforts to further strengthen these relations as well as continue in its mission to serve the nation and the Filipino people here in Japan.