Ambassador Garcia-Albano Encourages Japanese Businesses To Invest in Philippines and Contribute To Its Regional Development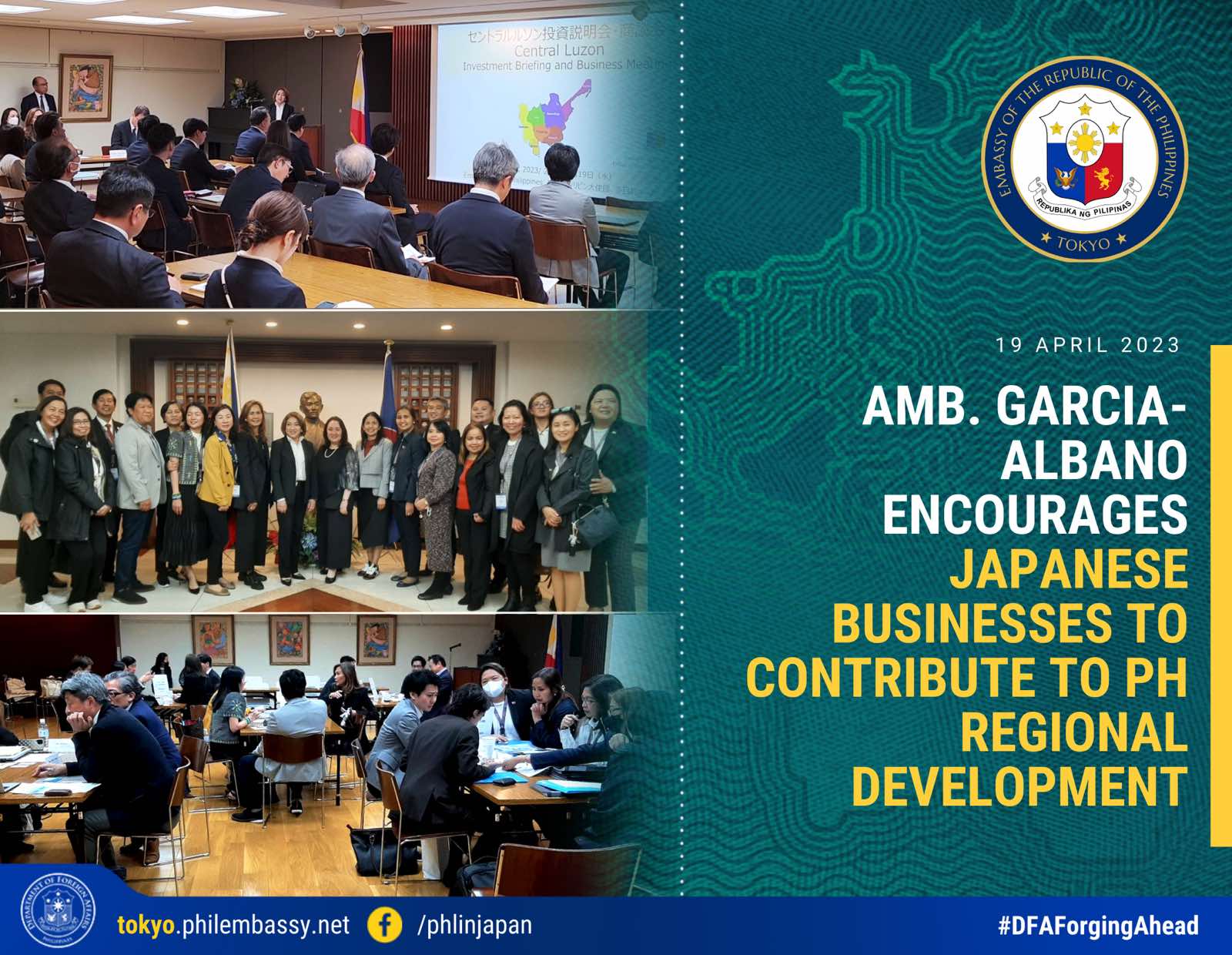 19 April 2023 – Ambassador Mylene J. Garcia Albano encouraged Japanese businesses to invest in the Philippines and contribute to its regional development during the "Investment Briefing and B2B Sessions" organized by PTIC-Tokyo, in cooperation with the Philippine Embassy, for the Central Luzon Growth Corridor Foundation, Inc. (CLGCFI).
In her welcome remarks, Ambassador Garcia-Albano acknowledged the vital role of local government units in ensuring that economic growth is both sustainable and inclusive, and recognized the "need to promote and foster regional development to redistribute the fruits of economic development even in far flung areas of the Philippines, ensuring that no one is left behind."
She addressed the Japanese business sector present during the briefing, and assured them that the Philippines is indeed open for business, "as we have demonstrated our determination to make the Philippines the logical investment destination of choice through game-changing reforms in economic liberalization, tax policies and ease of doing business."
During the investment briefing, officials from Aurora, Bataan, Bulacan, Nueva Ecija and Tarlac provinces made pitches to prospective investors and presented about business and investment opportunities, including strategic advantages of investing in their respective provinces. Several rounds of one-on-one B2B meetings followed the briefing.
The CLGCFI delegation, headed by its President and Head of Mission, Tarlac Governor Susan Yap, is undertaking an outbound trade and investment mission to Japan from 17-21 April, with itineraries in Osaka and Tokyo which aim to promote Central Luzon to Japanese investors as the logical destination for business and investment. Also joining the delegation are Congresswoman Maria Angela S. Garcia of the 3rd District of Bataan and Mayor Jocell Aimee Vistan-Casaje of Plaridel, Bulacan.
The CLGCFI is composed of seven (7) provinces in Central Luzon – Aurora, Bataan, Bulacan, Nueva Ecija, Pampanga, Tarlac, Zambales – and DTI representatives. END.