Founding Officers of Kilusang Pagbabago Tokyo Take Oath of Office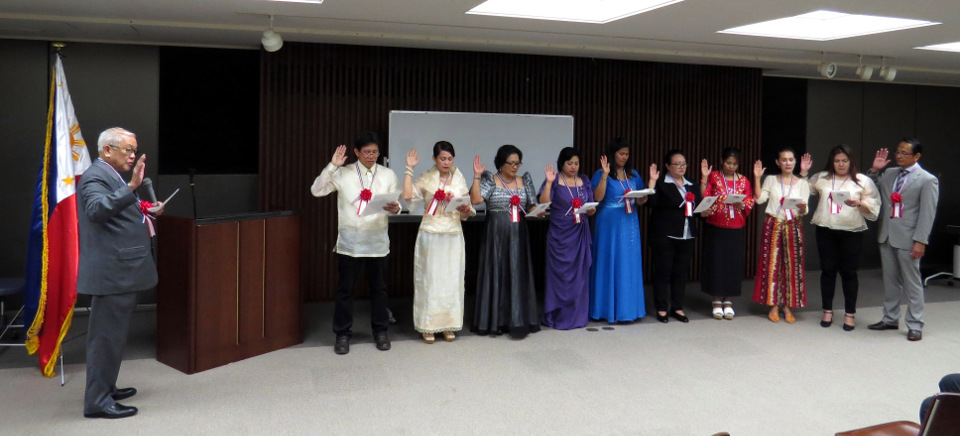 Philippine Ambassador to Tokyo Jose C. Laurel V (left most) administers the oath of office of the founding officers of Kilusang Pagbabago Tokyo held at the Siazon Hall of the Philippine Embassy in Tokyo on 02 June 2017. Established on 28 December 2016, Kilusang Pagbabago Tokyo encourages its members to participate and get involve in participatory governance under the administration of President Rodrigo Roa Duterte. The association will serve as the watchdog of government programs against criminality, illegal drugs, and corruption.
Inducted into office were the following founding officers: (L-R) George Q. Astilla, President; Welhelmina Rosa A. Takamatsu, Vice-President; Rica Takeda, Secretary; Daisy C. Onodera, Assistant Secretary; Maribel R. Osawa, Treasurer; Dolorita P. Tolentino, Auditor; Aireen M. Oikawa, Jocelyn J. Saito, and Brenda D. Hokura, Press Relations Officers; and Daniel P. Tanciatco, Project Manager. Col, Noel Z. Plaza, Defense and Armed Forces Attaché, Serves as adviser to the newly established association which has 50 members so far.
Founding President George Q. Astilla said that Kilusang Pagbabago Tokyo has so far supported various projects by non-government organizations such as Batang Astig in Davao City, House of Hope, Duterte's Kitchen in Quezon City, and Helping Hands for Filipino Kids in Japan.
Another flagship project of Kilusang Pagbabago Tokyo is its live radio program entitled "Bayan Ko", a public service program for Filipinos in Japan. The program opens a venue for the Embassy to bring its services closer to the Filipinos. End.