PHILJEC Officials Promote Further Relations Between Philippines and Japan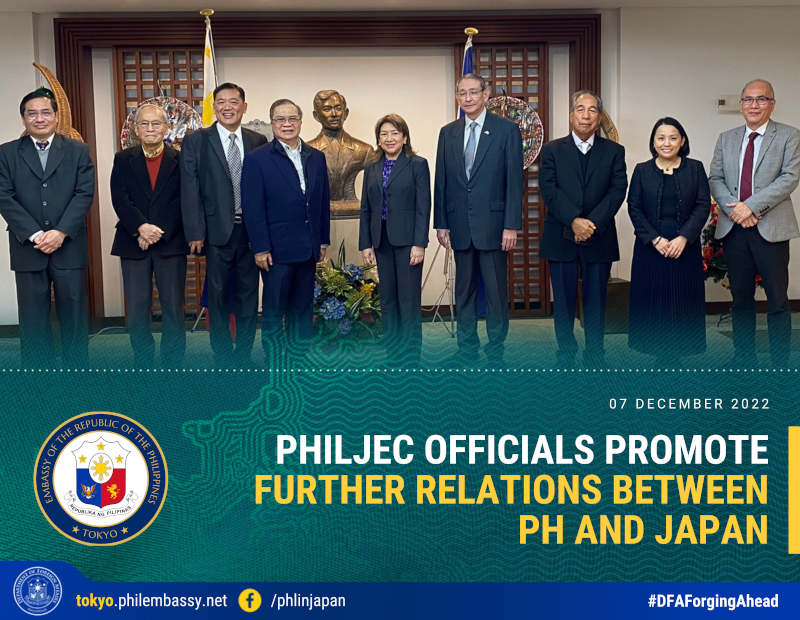 09 December 2022 – Officials from the Philippine-Japan Economic Cooperation, Inc. (PHILJEC) led by Chairman Gerard B. Sanvictores called on Ambassador-designate Mylene J. Garcia-Albano on 07 December 2022 in relation to their participation to the 48th ASEAN-Japan Business Meeting (AJBM), which will be held from 07 to 09 December 2022 in Tokyo, Japan.
PHILJEC is the lead organization in the Philippines that takes the lead in participating in and organizing activities such as the annual AJBMs. PHILJEC and the Japan Association of Corporate Executives (Keizai Doyukai) hosted the 40th AJBM in October 2014 and the 47th AJBM virtually in March 2022.
The AJBM is a private-led multilateral forum held by the ASEAN and Japan. The overall theme for this year is "ASEAN-Japan cooperation to create future values together – Building a sustainable society and human resources value chain."
According to Mr. Sanvictores, Keizai Doyukai has submitted to the Japanese Government various proposals and suggestions arising from these meetings, and has done its best to ensure that these ideas are reflected in Japanese economic policies, as have their ASEAN counterparts. As a result, the AJBM has served to strengthen the mutually beneficial relationship.