Philippines Wins the First Runner-Up Trophy at the 2023 ACT Bowling Tournament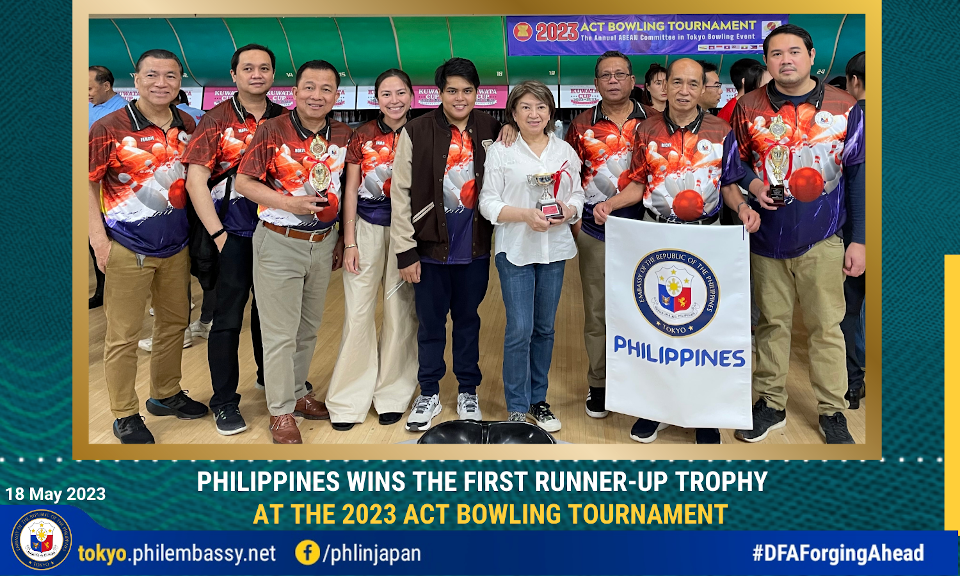 The Philippine Embassy, led by Philippine Ambassador Mylene J. Garcia-Albano, received the first runner-up trophy in this year's ASEAN Committee in Tokyo (ACT) bowling tournament held at the Tokyo Port Bowl on 14 May 2023. The ACT was able to hold this Bowling Tournament after three years of being postponed due to the COVID-19 pandemic.
Two officials of the Philippine Embassy also won individual prizes for the highest scorer among the male bowlers' category – Mr. Rolando Salazar (3rd place) and Mr. Tormuzie Indanan (2nd place). The other members of the Philippine Embassy bowling team included Mr. Rafael Alfredo Albano (Team Leader), Ms. Victoria Amanda Campos, Mr. Ferdinand Fabello, Mr. Ricardo Arrangote, and Mr. Ricardo Antipolo.
All ten ASEAN Embassies formed teams of seven players for this tournament. The Secretary General of the ASEAN Japan Centre (AJC), Mr. Kunihiko Hirabayashi, also joined the games with the Ambassadors and Charge d'Affaires of ACT. The Embassy of Malaysia was this year's bowling tournament champion. The second runner-up trophy was received by the Embassy of Lao PDR.
This annual sports event is part of the continuing activities of ACT to strengthen camaraderie among its members and their families. The 2023 ACT Bowling Tournament was hosted by the Embassy of Brunei Darussalam.