Filipino Community in Japan Celebrates Grand Reunion at the Philippine Festival 2022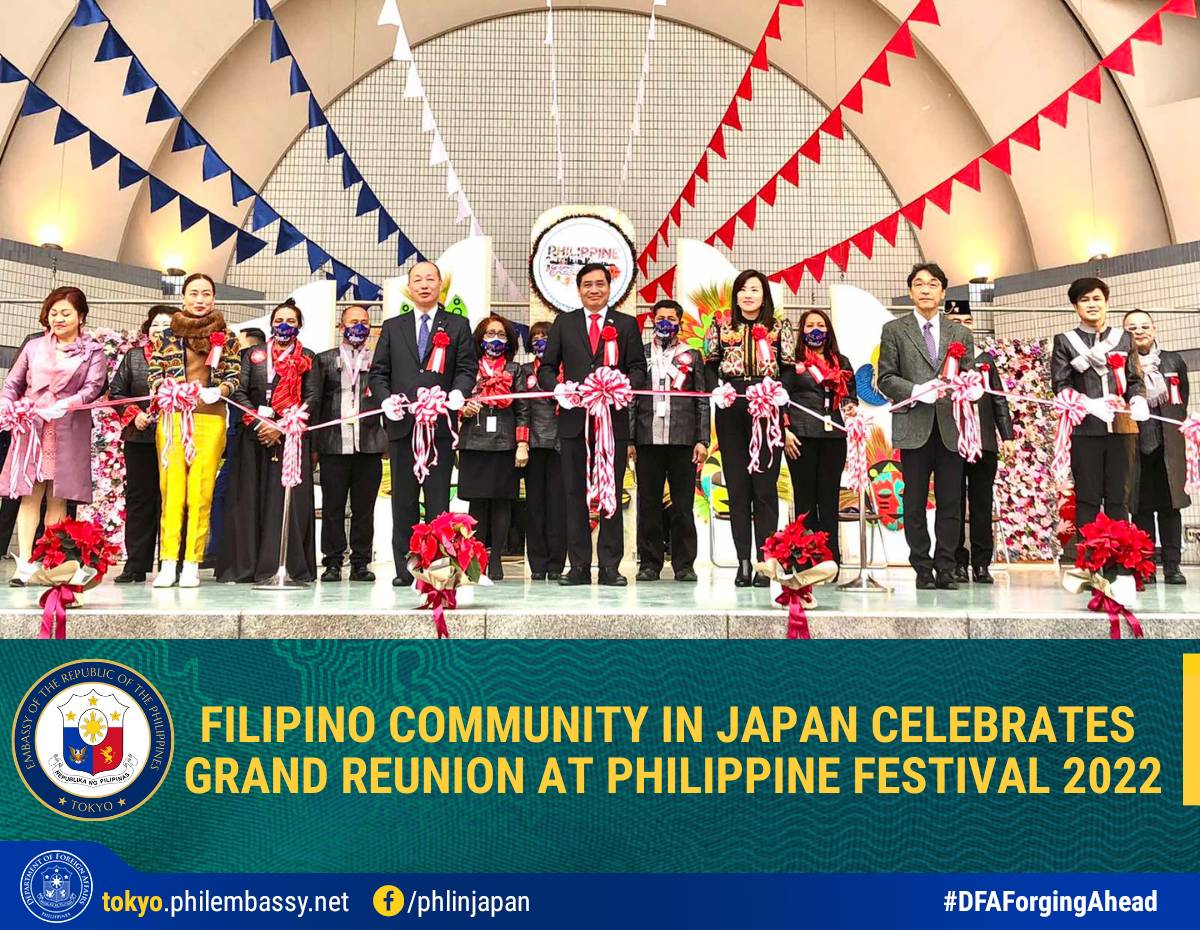 03 December 2022 – More than 100,000 people visited the Philippine Festival 2022 co-organized by the Philippine Embassy and the Filipino Community in Japan on 03 to 04 December at Yoyogi Park in Tokyo's Shibuya Ward.
In his welcome remarks at the opening ceremonies, Philippine Embassy Charge d' Affaires (CDA) Robespierre L. Bolivar noted that this is the Filipino community in Japan's grand family reunion after the two-year postponement brought about by the pandemic. "The Philippine Festival is our community's way of sharing our colorful, fun and uniquely Philippine Christmas to our Japanese friends. By welcoming our foreign guests to the Philippine Festival, we are, in fact, welcoming you into our homes," he said.
As the representative of the Japanese Government, Parliamentary Vice Minister for Foreign Affairs Kei Takagi spoke highly about the bond between Japan and the Philippines as "friends closer than brothers". He also expressed his wish for "further prosperity to the members of the Filipino Community in Japan."
Written messages from Former Japanese Prime Minister Yasuo Fukuda and Japan-Philippines Parliamentarian Friendship League Chairperson Hiroshi Moriyama were also read out during the program.
A ceremonial ribbon-cutting led by CDA Bolivar, Ms. Joyce Ogawa and Mr. Jodie Alvaran, the heads of the Festival's organizing committee, followed. They were joined by Vice Minister Takagi, Tourism Undersecretary Shereen Gail Yu-Pamintuan, Secretary General Kunihiko Hirabayashi of the ASEAN–Japan Centre, Tourism Promotions Board Chief Operating Officer Maria Margarita Montemayor-Nograles.
The Philippine Festival's full two-day program featured on-stage cultural presentations, performances by members of the Filipino community in Japan, and show featuring celebrities from "Eat Bulaga". Visitors were also treated to an extensive array of Filipino cuisine and products in various food booths during the festival. The Department of Tourism promoted the Philippines' world-class destinations and unique cultural heritage in its tourism showcase spread out over fourteen booths.
The Philippine Festival 2022 was jointly organized by the Philippine Embassy, the Philippine Festival Committee and the Philippine Assistance Group (PAG).
Photo credit: The 2022 Philippine Festival Media Promotions & Public Relations Committee