Vice President Jejomar Binay visits Tokyo PE, meets Filipino community
Vice President Jejomar C. Binay visited the Philippine Embassy in Tokyo on 17 July 2012 to meet with officers and staff of the Embassy and the leaders and members of the Filipino community as part of his activities during his visit to Japan on 16-18 July 2012.
Ambassador and Madame Manuel M. Lopez, along with Embassy personnel, welcomed Vice President Binay and his delegation. A flag-raising ceremony marked VP Binay and his delegation's arrival at the Embassy.
Vice President Binay also addressed leaders and members of the Filipino community in Japan and interacted with the applicants at the Embassy's Consular Section.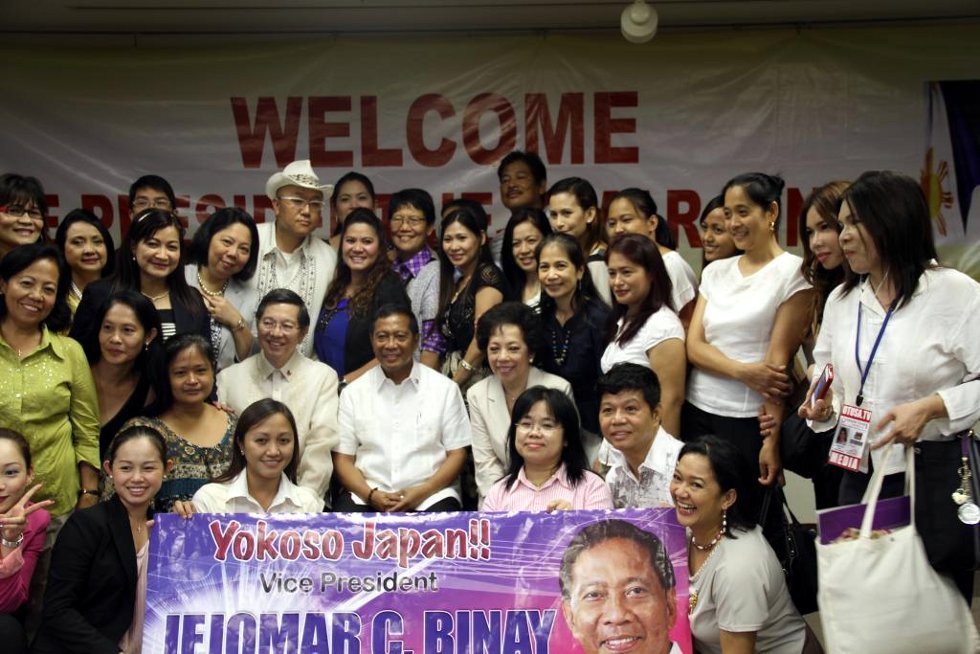 Vice President Binay was in Tokyo to be one of the keynote speakers at the SecureAsia@Tokyo Conference.  SecureAsia@Tokyo Conference SecureAsia@Tokyo Conference on 18 July 2012 .  Now on its 7th year, the Conference brought together "senior representatives from academia, government, and industry to identify solutions to the security threats… [such as] cyber attacks on corporate and government infrastructure. The rise in sophisticated and targeted attacks as well as the increased use of smart phones and social media….require that information security professionals are equipped with the necessary skill set to effectively deal with [these] challenges."
On 18 July 2012, Vice President Binay also had a courtesy call on Deputy Prime Minister Katsuya Okada at the Kantei, the Prime Minister's Office, and met Minister of Economy, Trade, and Industry Yukio Edano. He also met other Japanese government officials and information security experts during his visit.