Two Philippine Films Featured In The 33rd Tokyo International Film Festival (TIFF)
27 October 2020 – The 33rd Tokyo International Film Festival (TIFF) will be held from 31 October to 09 November 2020 at Roppongi Hills, EX Theater Roppongi and other theaters in Tokyo, Japan. Two Philippine films are featured in the 33rd TIFF. These films can be seen in two categories of the Festival.
One of the films is included in the "Tokyo Premiere 2020". This category focuses on World Premiere and Asian Premiere films by unique directors around the world. The film "Fan Girl" of Director Antoinette Jadaone is listed in this category. Director Jadaone's "Six Degrees of Separation from Lilia Cuntapay" won Eiga Hiho magazine's best TIFF 2019 film. As a result, viewers are eager to see the world premiere of her new film. "Fan Girl" is a story about a starstruck girl who sneaks into an actor's house. In doing so, she sees a horrifying truth.
The other category is "World Focus". It is a showcase of works from film festivals worldwide, foreign films unreleased in Japan, and award-winning films that have been screened at overseas film festivals. The film "Genus Pan" ("Lahi, Hayop") of Director Lav Diaz will have its Japanese premiere under this category. It is a drama about three illegal miners who traversed the sea, the mountains and the forest until they reached their destination. Or did they really reach their cursed place? "Genus Pan" had its world premiere at the 2020 Venice Film Festival where it won the Best Director prize in the Orizzonti competition.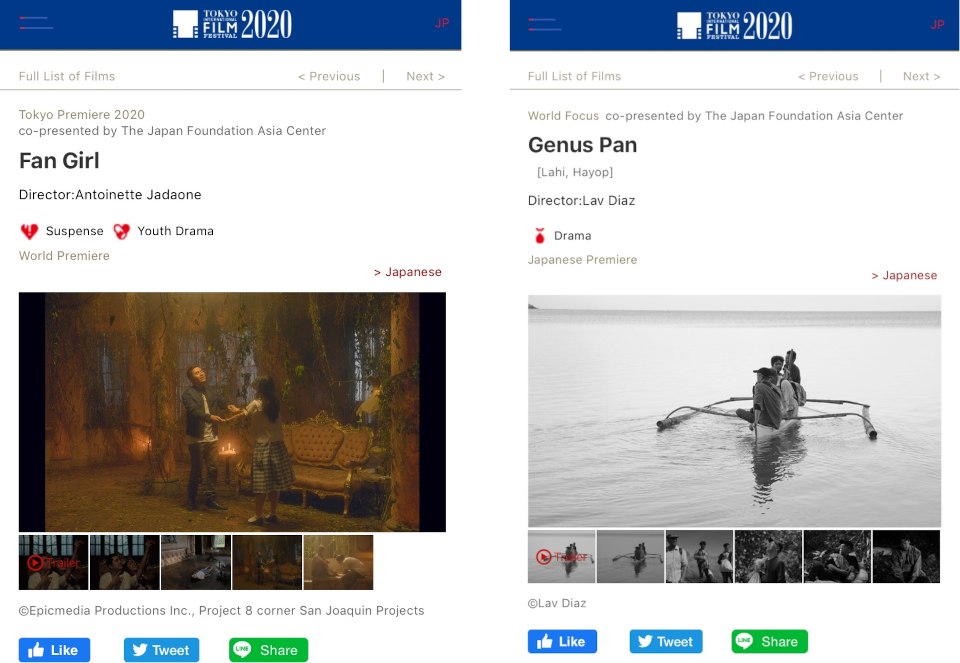 These films are co-presented by The Japan Foundation Asia Center. The Asia Center aims to connect people and expand networks in Asia through promoting bilateral exchanges and cooperation in various fields ranging from arts, film, music, dance, performing arts, sports, intellectual and people-to-people exchanges.
More information about the 33rd TIFF is available at https://2020.tiff-jp.net/en/. Information about tickets can be seen at https://2020.tiff-jp.net/en/ticket/.