Tourism Secretary Jimenez Promotes Pristine Natural Attractions of the Philippines to Japanese Travellers
20 June 2014, Tokyo – Tourism Secretary Ramon Jimenez, Jr. invited Japanese travelers to come and visit the Philippines and enjoy the pristine natural attractions of the country.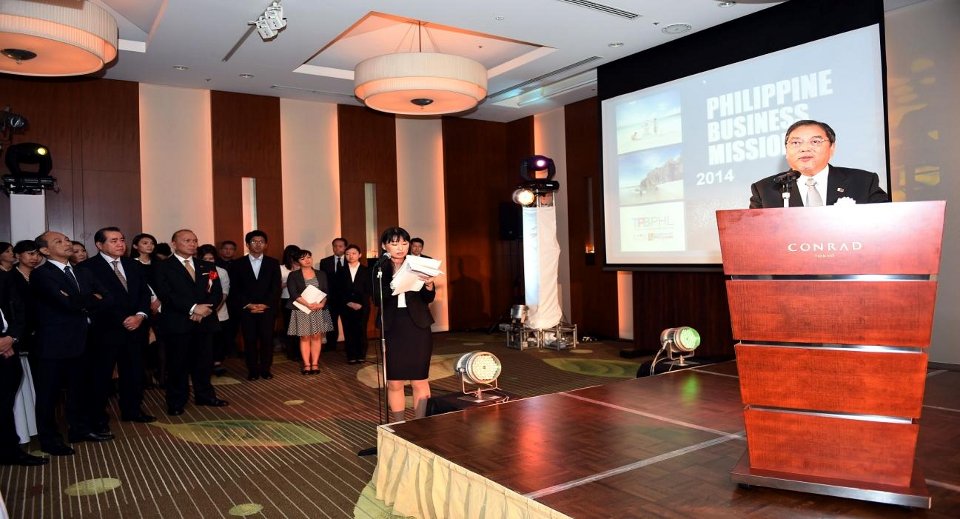 Speaking at a reception at the Conrad Hotel in Tokyo at the culmination of the Philippine Tourism Business Mission on 20 June 2014, Secretary Jimenez (photo above) emphasized the similarities between the Japanese and the Filipinos especially their love of nature. He pointed out that Nature is a God-given gift that people have to respect and commune with during their existence on earth, adding that "there is a mysterious bond between man and nature that man has to periodically go back to natural settings to realize his true character."
Secretary Jimenez shared with his audience the unspoilt natural attractions of the Philippines and invited the Japanese guests to partake of nature's gifts in the country. He said: "Both our countries have suffered much from the fury of natural calamities and know how destructive they can be. But we know how beautiful, peaceful and invigorating nature can be. It is when man appreciates nature that harmony and balance is maintained."
The Philippines and Japan have joined efforts in bringing about a significant increase in two-way tourist travel not only from Manila to Haneda and Narita but also to major gateways of Japan, namely Nagoya, Osaka and Fukuoka. For the Manila-Tokyo route, Tourism Attaché in Tokyo Valentino Cabansag is working with travel agents to fill up the passenger seats for 10 daily flights by major Philippine, Japan and other international carriers such as Philippine Airlines, Cebu Pacific, Japan Airlines and All Nippon Airways. With the increase in volume of airline seats, the Embassy is coordinating with the Tourism Attaché to fill up these flights with travelers to the Philippines.
The Philippines greatly anticipates a marked increase in two-way tourism as Japan announced very recently the relaxation of visa requirements for the Philippines and various ASEAN countries.
In his welcome remarks, Mr. Gilberto G.B. Asuque, Deputy Chief of Mission and Chargé d' Affaires (CDA), Philippine Embassy (photo above), pointed out that people-to-people exchange or interaction is a key factor in the vibrancy of Philippines-Japan relations. "With the increase in the daily flights between the Philippines and Japan, we now have an ideal situation wherein Filipinos and Japanese will have the wide opportunity to visit each other more frequently and in the process deepen our understanding of each other and develop stronger bilateral ties," Mr. Asuque said.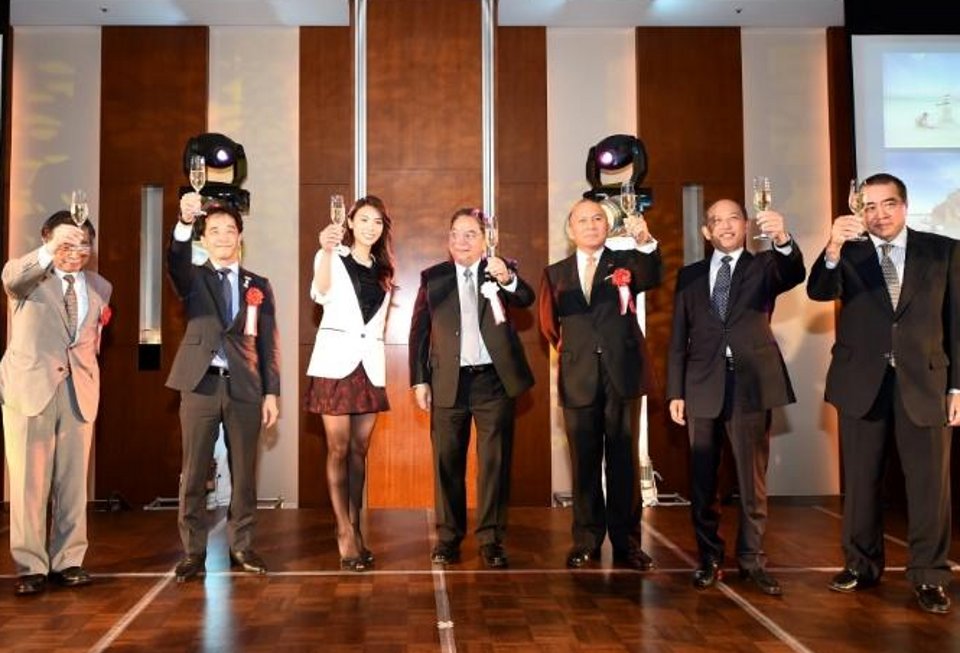 The reception was capped by the traditional "kampai" for the success of Philippine Tourism Business Mission with significant increase in two-way tourist travel. Offering the toast (photo above, left to right) are Mr. Tatsuro Nakamura, President, Japan Association of Travel Agents; Mr. Yasuhiro Shinohara, Vice Commissioner, Japan Tourism Agency; Filipina-Japanese actress Ms. Sayaka Akimoto, Philippine Tourism Friendship "Ambassador"; Tourism Secretary Jimenez, CDA Asuque, Mr. Domingo Ramon Enerio III, Chief Operating Officer, Philippine Tourism Promotions Board; and Mr. Cabansag,Tourism Attaché in Tokyo.
The Philippine Tourism Business Mission was conducted from 16 to 20 June 2014 with the country's national flag carriers, the Philippine Airlines and Cebu Pacific as its sponsors. This tourism road-show is held every year by the Department of Tourism and the Philippine Tourism Board in order to create an opportunity for the Philippine travel trade sector to meet with their Japanese counterparts in major cities of Japan where there are direct air access to the Philippines, namely, Fukuoka, Osaka, Nagoya and Tokyo. The Philippine delegation was composed of 34 Philippine private companies representing leading hotels, resorts and travel related organizations. Secretary Jimenez, Mr. Enerio, together with regional tourism directors from Regions 4, 6 and 7 spearheaded the road-show with Tokyo as their final destination where a reception was hosted by the Philippine delegation at the Conrad Hotel in the Shiodome district attended by Japanese travel trade officers, travel agents and members as guests.