The Philippine Embassy Congratulates Four Philippine Students Whose Artworks are Featured at the International High School Arts Festival in Japan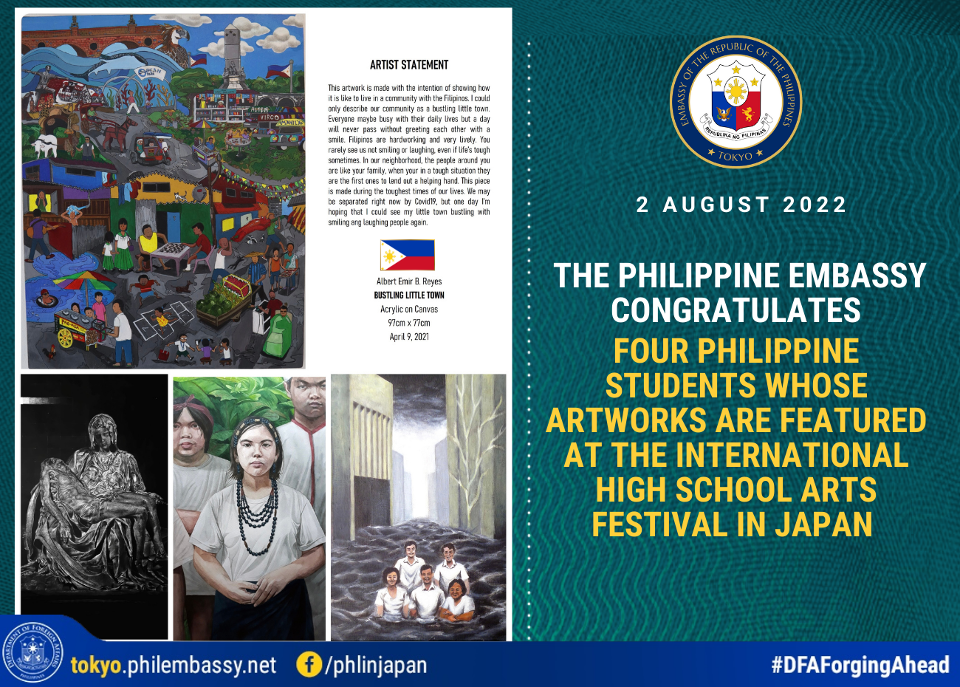 02 August 2022 – The artworks of four students of the Philippine High School for the Arts (PHSA) will be featured at the annual International High School Arts Festival in Japan sponsored by the International Foundation for Arts and Culture (IFAC) this August.
Out of the thousands of submitted art pieces, the work of the following four Philippine high school students were among the approximately 500 selected works brought to Japan to form part of the exhibition during the Festival:
Mr. Albert Emir B. Reyes (top photo) – (winner) artwork title "Bustling Little Town"
Mr. Ethan Luis Andrade (lower right photo) – artwork title "Storms"
Ms. Kyla Gabrielle Puyat (lower middle photo) – artwork title "Self-portrait"
Mr. Eicyd Timothy Rico (lower left photo) – artwork title "Michelangelo's Pieta"
The Philippine Embassy congratulates these talented young artists as they represent The Philippines in this Festival. An online awarding ceremony for the winners will be held on 3 August 2022. The Philippine Embassy in Tokyo in coordination with the Department of Foreign Affairs in Manila assisted IFAC and PHSA in order to send the four artworks from the Philippines to Japan.
The 23rd International High School Arts Festival will be held from 10 to 21 August 2022 at The National Art Center in Tokyo. The Festival aims to foster cultural exchange by sharing the students' original perspectives and messages as portrayed in their art.