Signature Filipino Dishes Available in April at Tokyo Branch of Hard Rock Café and Tony Romas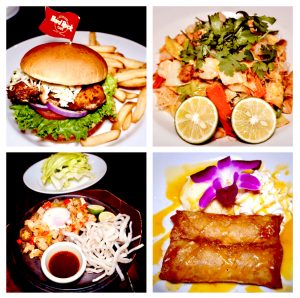 30 March 2021 – For the whole month of April, Hard Rock Café and Tony Romas, both located at Roppongi, Tokyo, will celebrate "Eats More Fun in the Philippines" by offering popular Philippine dishes such as chicken inasal burger, pancit bihon and sisig. Turon served with vanilla ice cream, whipped cream and mango sauce will also be served as dessert at both restaurants.
The campaign includes a chance to win a round-trip Cebu Pacific ticket to the Philippines by following the DOT Japan official Instagram and twitter accounts and reposting the campaign image or retweeting the campaign post with hashtags #もっと楽しいフィリピン (#morefunph) and #もっと楽しい笑顔 (#smilewithmorefun). Customers who also order the special collaboration menu items and post via Instagram and twitter the hashtags hashtags #もっと楽しいフィリピン (#morefunph), along with the restaurant hashtag #hardrockcafe or #tonyromas will receive a special pass case made from T'nalak, a traditional cloth made by the Tboli.
"Food and travel are inevitably linked and intertwined. Simply stated, when we think of travel, we think of food!," remarked Ambassador Jose C. Laurel V at the dinner launch of the project at Hard Rock Café on March 26, 2021. "It is my hope that the inspiration and excitement we offer through food will result in welcoming Japanese friends and tourists in the Philippines this year and the years to come," the Ambassador added.
At the dinner launch, popular Japanese personalities also attended such as Pinoy Big Brother alumnus Fumiya Sankai, singer and DJ Maria Theresa Gow, chef Marie Inomata, and beauty titlists Hiro Nishiuchi, Natsuki Tsutsui, Mai Murakami, Yuki Sonoda and Kohei Sato. A media launch was also held earlier in the day. At both events, San Miguel beer and Philippine-inspired drinks mango mojito and calamansi fizz were also served.
The initiative is part of the efforts of the Philippine Embassy, through its Tourism Section, to keep the Philippines "top of mind" in the travel plans of the Japanese public when international borders open and tourism travel returns to normal.