Philippines Reaffirms Commitment to a Nuclear Weapons-Free World at the 77th Peace Ceremonies in Hiroshima and Nagasaki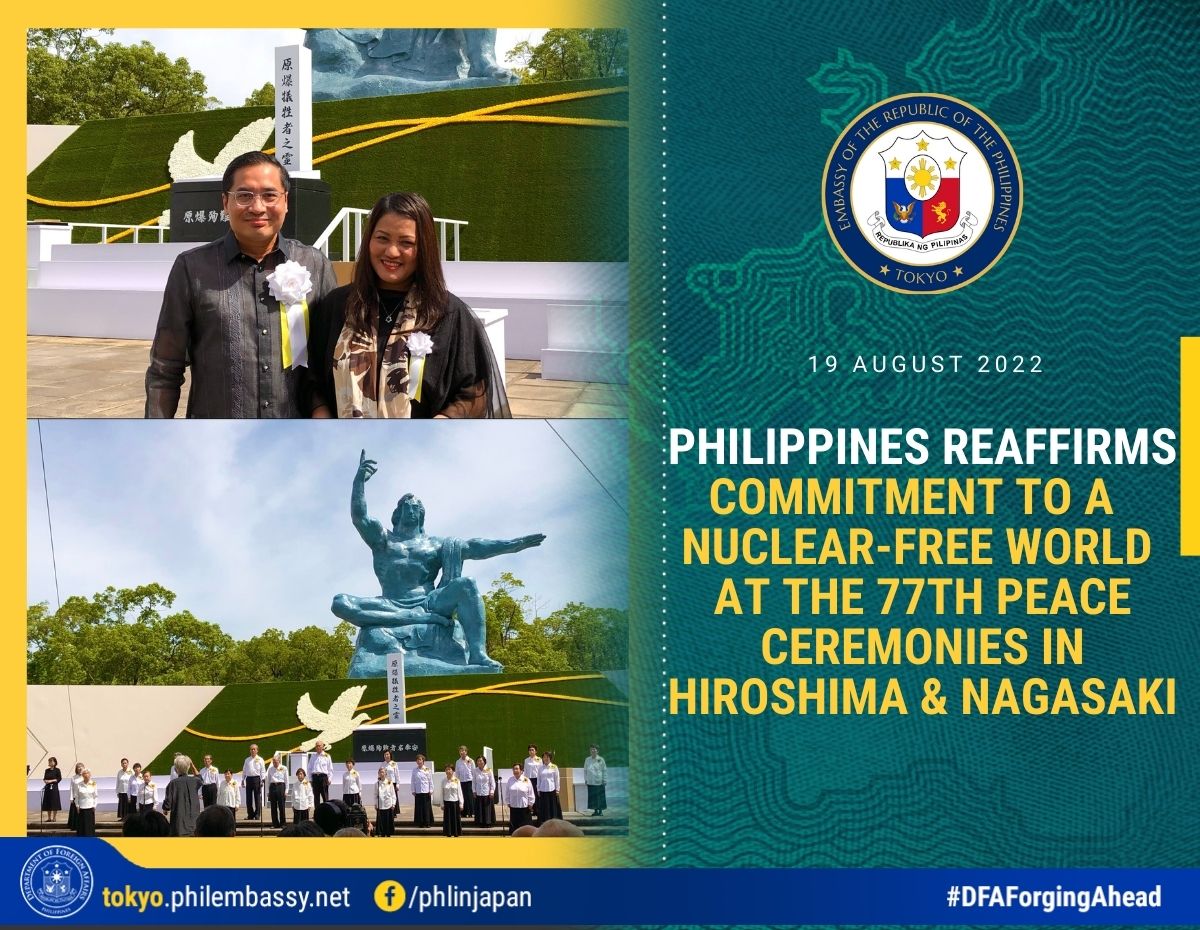 The Philippine Embassy in Japan reaffirmed the Philippine Government and Filipino people's commitment to a world free of nuclear weapons at the 77th Peace Memorial Ceremonies on 06 and 09 August 2022 in Hiroshima and Nagasaki, respectively.
The Embassy's Charge d'Affaires (CDA) Robespierre Bolivar and Mme. Maria Aurora Bolivar represented the Philippines and participated in the remembrance ceremonies for the victims of the 1945 atomic bombing of both cities.
CDA and Mme. Bolivar offered flowers as a tribute to the victims at the cenotaphs erected below the exact locations of where the atomic bombs exploded 77 years ago.
They joined Japanese Prime Minister Fumio Kishida, United Nations Secretary General Antonio Guterres, the Governors and Mayors of Hiroshima and Nagasaki and hundreds of members of the Diplomatic Corps at the ceremonies commemorating the thousands who perished due to the bombing.
In his remarks, Secretary General Guterres argued that "humanity is playing with a loaded gun…and the only solution to the threat of nuclear weapons is not to have nuclear weapons at all." He called on everyone to "instead, proliferate peace and not extinguish the lessons learned from Hiroshima and Nagasaki."
For his part, the Mayor of Nagasaki urged the international community to ensure that his city should be the last to suffer through the horrific effects of nuclear weapons.
At 8:05 AM on August 06 and 11:02 AM on August 9, the precise moments when the atomic bombs exploded over the skies of Hiroshima and Nagasaki, respectively, bells tolled throughout the cities and participants observed a moment of silence.
The Nagasaki Peace Ceremony was highlighted by a musical presentation by a choir composed exclusively of hibakusha, or the survivors of the 1945 atomic bombing. According to Japanese Government records, there are more than 180,000 hibakusha in Nagasaki who have since passed away. Their names are inscribed in the memorial at ground zero.
Japan is the only country in history to have suffered through an atomic bomb explosion in war-time. More than 150,000 people perished in the immediate aftermath of the atomic bomb explosion in 1945.