Philippines and Japan Sign Information and Communications Technology Cooperation Agreement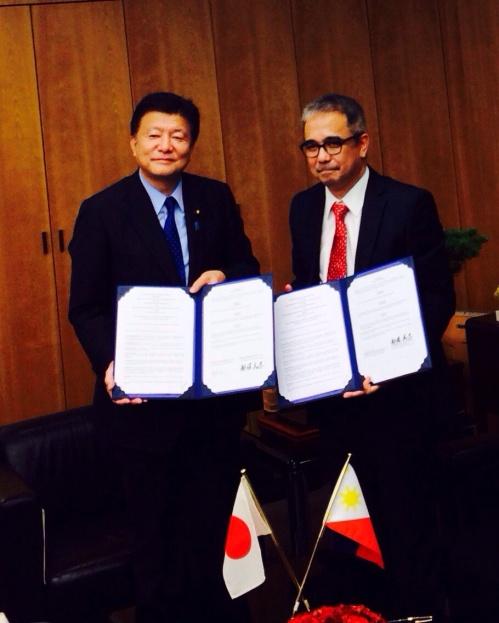 25 June 2014, Tokyo – Science and Technology Secretary Mario G. Montejo and Japan's Minister of Internal Affairs and Communications Yoshitaka Shindo signed in Tokyo on 23 June 2014 a Memorandum of Understanding (MOU) on Cooperation in the Field of Information and Communications Technology or ICT.
The MOU aims to encourage cooperation and accelerate development and integration in the field of information and communications technology between the Department of Science and Technology (DOST) and the Ministry of Internal Affairs and Cooperation (MIC) of Japan, taking into account rapid changes in the various ICT fields and the adoption by the Philippines of the Integrated Services Digital Broadcasting-Terrestrial (ISDB-T) as the Philippine standard for Digital Terrestrial Television Broadcasting (DTTB).
The agreement covers a number of key areas of common interest to both the Philippines and Japan. These include, among others, cooperation for the implementation of the DTTB, development and usage of information and communications technology in disaster risk reduction and management programs, formulation of ICT policies on cyber and information securities, enhancement of cyber security programs and protection against illegal cyber activities, and promotion of a secure online environment for public services (e-commerce and e-government).
Secretary Montejo leads a delegation of Philippine officials including Senator Cynthia A. Villar, Congressman Joel R. Duavit, Congressman Victor J. Yu, Congressman Mariano U. Piamonte, Jr. and Congressman Mariano Michael M. Velarde, Jr. of the Senate and House Committees on Science and Technology. The delegation is in Tokyo from 22 to 28 June 2014 for ICT policy dialogues and site visits.