Philippine Investment Seminar in Tokyo
In line with the goal of President Benigno S. Aquino III to make the Philippines "very desirable to business", a Philippine Investment Seminar was held on 1 February 2011 at the Tokyo Kaikan to inform the Japanese business community of the investment environment and opportunities under the current administration and encourage Japanese firms to continue to take part in the country's economic resurgence.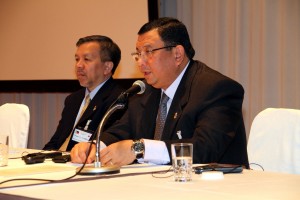 Spearheading the Philippine Investment Seminar were Secretary of Trade and Industry Gregory L. Domingo and Secretary of Energy Jose Rene Almendras. On hand to provide support was Philippine Ambassador to Tokyo Manuel M. Lopez, who delivered the welcome remarks. The Japanese side was led by Mr. Toshitaka Hagiwara, Co-Chairman of the Japan-Philippines Economic Cooperation Committee (JPECC), an organization of Japanese businessmen with investments in the Philippines.
Japan is one of the Philippines' most valued economic partners. It is the country's second largest trading partner and export market, accounting for 16.17% (USD 6.20 B) of Philippines exports in 2009. Japan ranks as the Philippines' second top investor. In 2009, foreign direct investment (FDI) from Japan hit PHP 70.7 billion, or 58.1% of total FDI. Furthermore, the Philippines and Japan signed the Japan-Philippines Economic Partnership Agreement (JPEPA) – the Philippines' first and only bilateral Free Trade Agreement.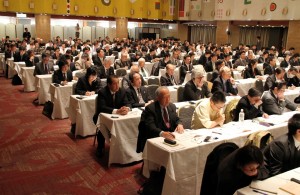 Around 300 members of the Japanese business community attended. They were informed by Secretary Domingo that it is easier to do business now in the Philippines because of the President's directive to cut red tape, provide competitive incentives and assistance, reduce corruption and improve infrastructure, including public-private sector partnerships (PPP). Secretary Domingo also recommended that export-oriented businesses consider investing in the PEZA Special Economic Zones. Secretary Almendras, on the other hand, provided information on investment opportunities in the energy sector, paying particular attention on renewable and green energy.
The Philippine Investment Seminar was organized by the Embassy of the Philippines, Tokyo, the JPECC and the ASEAN-Japan Centre (AJC). It is the culmination of a two-day PPP roadshow to Japan led by Secretary of Finance Cesar V. Purisima, with Secretaries Domingo and Almendras and Bangko Sentral ng Pilipinas Deputy Governor Diwa C. Guinigundo. The roadshow saw the Philippine delegates meet with heads of Japanese companies and Japanese officials. A separate meeting was held on 2 February between the JPECC and the Philippines-Japan Economic Cooperation Committee (PHILJECC), a group of leading Philippine businessmen with interests in Japan.