Philippine Flora: An Online Botanical Art Exhibition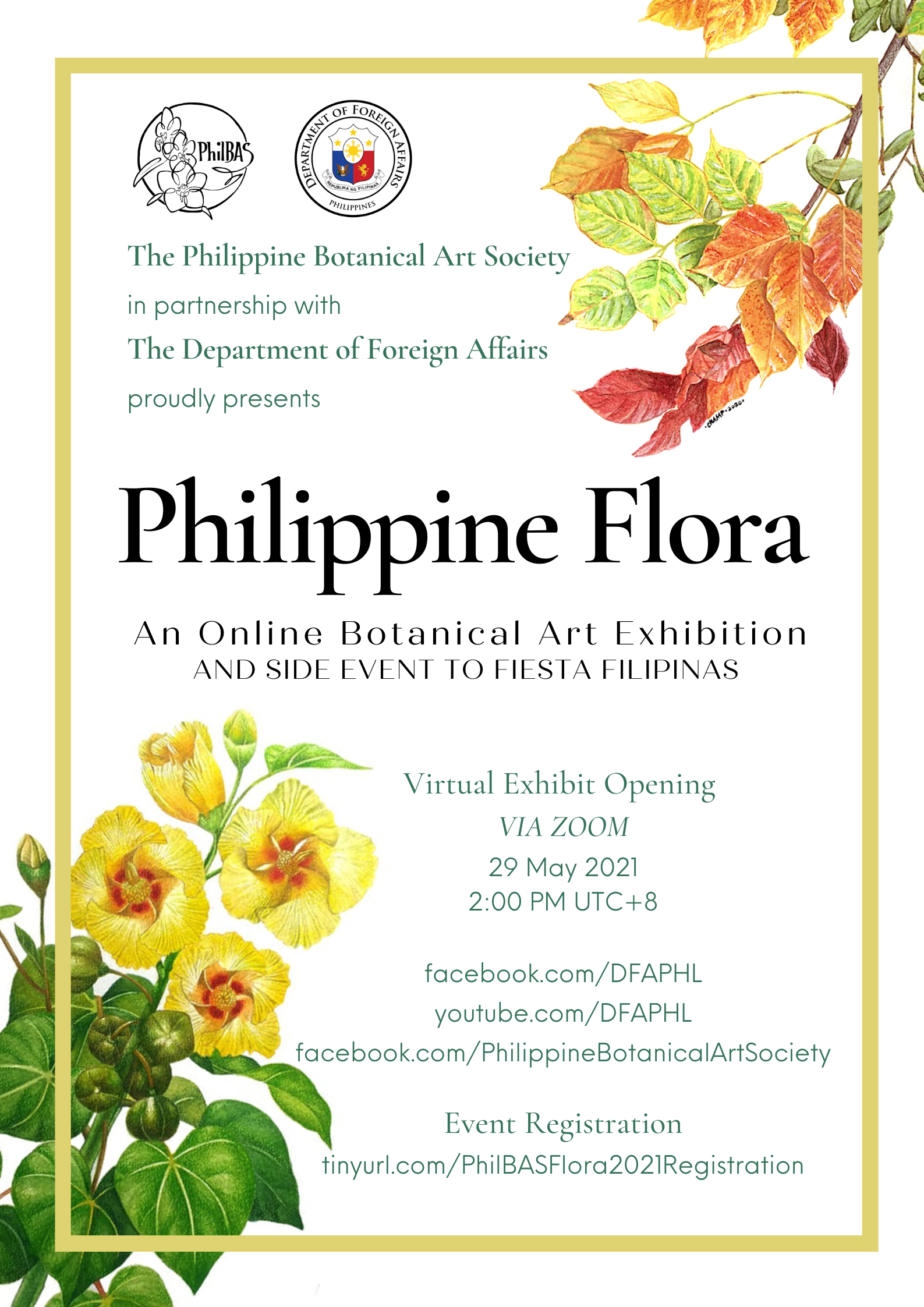 See the beauty of Philippine flora at the online exhibit entitled, "Philippine Flora: An Online Botanical Art Exhibition" which will run from 29 May 2021 until 29 June 2021 at https://philippineflora.cargo.site/ .
The exhibit is a collaboration between the Department of Foreign Affairs and the Philippine Botanical Art Society. The virtual exhibit opening is on 29 May 2021at 2:00 p.m. (PH time), 3:00 p.m. (Japan Time) via Zoom and will be broadcast on the DFA's official YouTube channel (https://youtu.be/XxBtsvvXJN4. ) and Facebook page.
Kindly click this link (https://tinyurl.com/PhilBASFlora2021Registration) to register for the virtual exhibit opening.
The online art exhibition, after "Flora de Filipinas", an iconic and comprehensive book about the flora of the Philippines by Father Manuel Blanco, features botanical artworks of Philippine endemic and indigenous flora by Filipino artists.
"Philippine Flora: An Online Botanical Art Exhibition" aims to create awareness about the rich biodiversity of the Philippines, specifically endemic and indigenous flora species. Being one of the mega-diverse countries in the whole world, the Philippines takes pride in its more than 10,000 native flora species; fifty percent of these species are endemic, meaning these can only be found in the Philippines.
Apart from reviving the botanical art form in our country, it is the advocacy of the Philippine Botanical Art Society to educate and connect our fellow Filipinos to our native flora by rendering these beautiful species through botanical artworks. In parallel, it aims to raise awareness about these species' conservation status since most of these are endangered.