Philippine Festival 2014 Successfully Held in Ueno Park, Tokyo
After heavy rains the past week, the Philippine Festival 2014 was blessed with two days of good weather despite a weekend forecast of rain. The Festival was successfully held at the famous Ueno Park in Tokyo on 30-31 August 2014. The event was organized by the Filipino Community in Japan, with the support of the Philippine Embassy in Tokyo and the Ministry of Foreign Affairs of Japan (MOFA).
More than 150,000 visitors thronged to the two-day Festival, which was held for the third year in a row since 2012. The annual Philippine Festival is intended to showcase the best of Philippine culture, promote friendship between Filipinos and Japanese, and bring together members of the Filipino community from different parts of Japan.
The Festival's opening ceremony was graced by a number of dignitaries led by Hon. Kenji Kosaka, Member of the House of Councillors of Japan and Chairman of the Japan-Philippines Parliamentary Friendship League (JPPFL); Hon. Takeshi Maeda, Member of the House of Councillors and Vice-Chairman of the JPPFL; Hon. Yukio Ubukata, Member of the House of Representatives and Chief Secretary of the JPPFL; Hon. Masayoshi Nataniya, Member of the House of Councillors and Executive Director of the JPPFL; Hon. Kensuke Miyazaki, Member of the House of Representatives and Deputy Secretary General of the JPPFL; Hon. Kazuhide Ishikawa, Ambassador-designate of Japan to the Philippines; Mr. Makita Shimokawa, Deputy Director-General of the Southeast and Southwest Asian Affairs Department of MOFA; and Ambassador and Madame Manuel M. Lopez. Ambassadors from ASEAN countries and Japan based ambassadors accredited to the Philippines were also in attendance.
In his welcome remarks, Ambassador Lopez said that the Philippine Festival 2014 presents an opportunity for Filipinos to reiterate their appreciation for the tremendous support of the people of Japan for victims of last year's typhoon Haiyan (Yolanda), both immediately after the calamity and in the ongoing rehabilitation of typhoon-affected areas. Ambassador Lopez also urged the Filipino community in Japan to continue lending a hand to typhoon victims back home who are still working to rebuild their lives and communities.
The message of Minister of Foreign Affairs of Japan Fumio Kishida, which was delivered by MOFA Deputy Director General Shimokawa, likewise touched on the natural disasters which struck the Philippines in 2013. Minister Kishida noted that Japan provided full support in return for the kind assistance of the Filipino people after the Great East Japan Earthquake of 2011, and reiterated Japan's intention to continue cooperating with the Philippines on rehabilitation efforts.
The Philippine Festival 2014 was declared officially open by the Organizing Committee Chairperson, Ms. Jenavilla Shigemizu.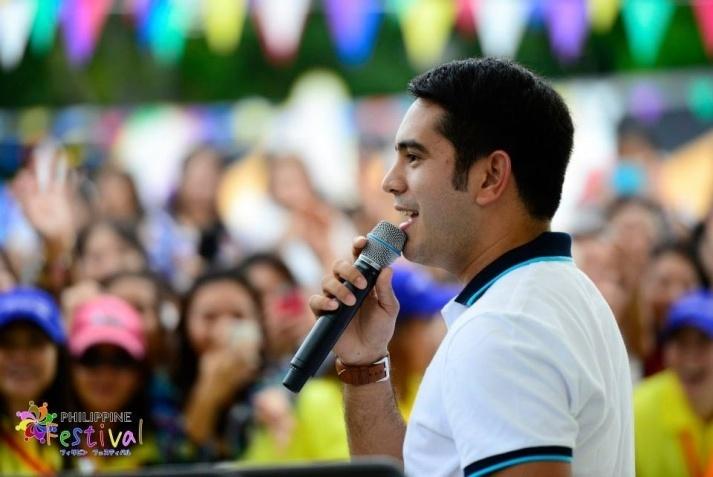 The Festival offered visitors plenty of opportunities to appreciate Philippine music, dance, entertainment, food and services. The stage program on both days saw exceptional performances by Japan based Filipino artists featuring Ms. Marlene dela Pena among others as well as celebrities from the Philippines such as Imelda Papin, Gerald Anderson and Richard Poon. Visitors particularly appreciated the lively and colorful performances of the Masskara Festival Dancers, who came all the way from Bacolod City, the "Sugar Capital of the Philippines."
The Philippine Festival 2014 truly brought home the message that "It is more fun in the Philippines."