Philippine Embassy Thanks Baguio Scholarship Foundation For Investing in Education of Young Filipinos
Philippine Embassy in Japan Chargé d'Affaires (CDA) Robespierre Bolivar expressed the Philippine Government's sincere appreciation to the Baguio Scholarship Foundation of Japan for providing scholarship opportunities to thousands of young Filipinos during the Foundation's 40th anniversary on 08 September 2022.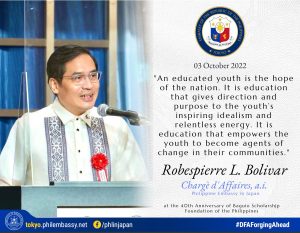 In his keynote remarks, CDA Bolivar noted that the Foundation has helped uplift the lives of many families and built goodwill and friendship between the Philippines and Japan through more than 4,000 scholarships it has funded over the last four decades. He also emphasized that "by providing our young people access to quality education, the Baguio Scholarship Foundation gives them a valuable opportunity to build a good life for themselves. You are also giving them the ability to make a meaningful contribution to our country's progress. You are, in fact, investing in the future of the Philippines."
The Baguio Scholarship Foundation, also known as the Baguio Fund, provides scholarships to children in Baguio City, where the first group of Japanese communities settled upon arrival in the Philippines.
The Foundation is based in Japan and is funded wholly by various Japanese Rotary Club chapters and donations from patrons. It implements projects in coordination with the Filipino-Japanese Foundation of Northern Luzon, the Filipino-Japanese Friendship Association, the Rotary Club of Baguio, and the Baguio Summer Capital Rotary Club.