Philippine Embassy Promotes Philippine Culture and Arts Through Book Donation to ASEAN-Japan Centre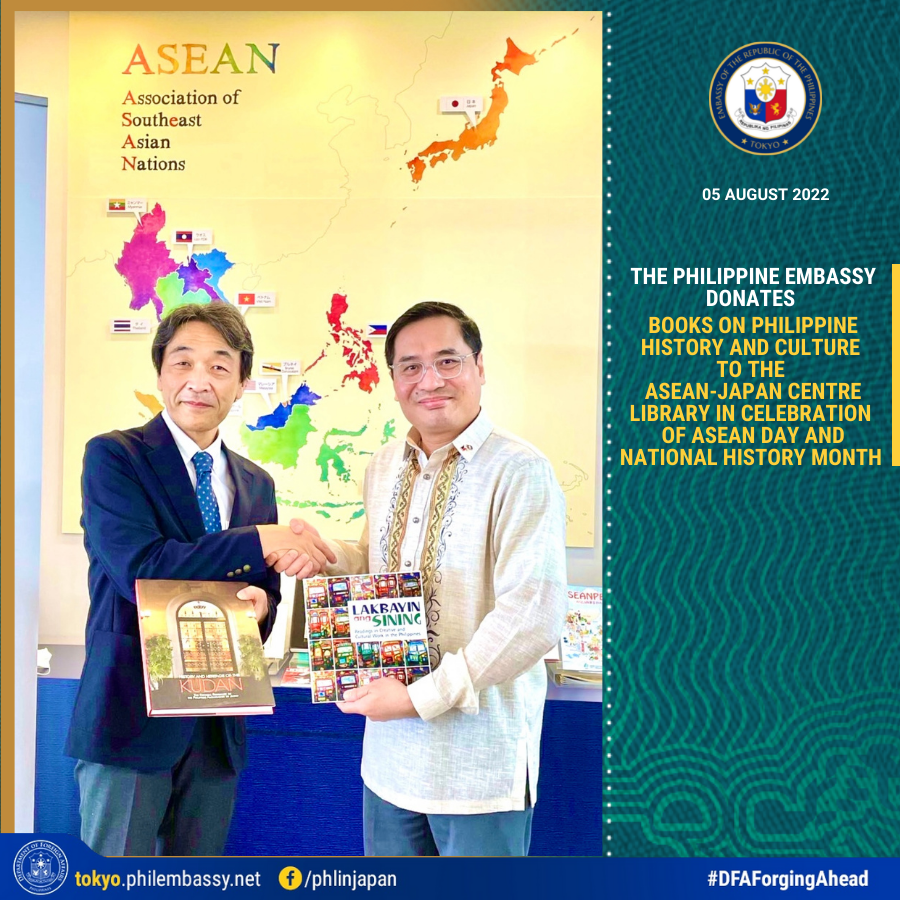 04 August 2022 – As part of an ongoing effort to promote awareness of Philippine culture and arts to the Japanese public, Philippine Embassy in Japan Chargé d' Affaires (CDA) Robespierre Bolivar met with ASEAN – Japan Centre (AJC) Secretary General Dr. Kunihiko Hirabayashi to officially turnover a collection of books to the AJC library.
CDA Bolivar noted that the Embassy remains committed to proactively promoting the Philippines and increasing awareness of the country in Japan. For his part, Dr. Hirabayashi extended his appreciation to CDA Bolivar for the books, which will be featured in the AJC library in Tokyo.
The package includes coffee table books on Philippine art and cuisine, a photo book featuring the official residence of the Philippine Ambassador to Japan, and books on Philippine-Japan relations, most of which were provided by the Cultural Center of the Philippines. The collection also includes the manga on the life of Jose Rizal, written and drawn by Japanese artists, which the Embassy publicly launched in December 2021.
The Embassy, through its Sentro Rizal, has been proactively partnering with libraries and schools in the Tokyo area to provide more information about Philippine culture, history, and heritage to the Japanese community, especially the youth, through the book donation drive.
The book donation coincides with the celebration of the 55th Anniversary of ASEAN and Philippine National History Month with the theme, "Kasaysayan, Kamalayan, Kaunlaran" (History, Consciousness, Development) in August 2022.
#ASEANDay
#2022HistoryMonthPhilippines
#TokyoPECulturalDiplomacy
#SentroRizalTokyo