Philippine Embassy in Tokyo joins the campaign to end Violence Against Women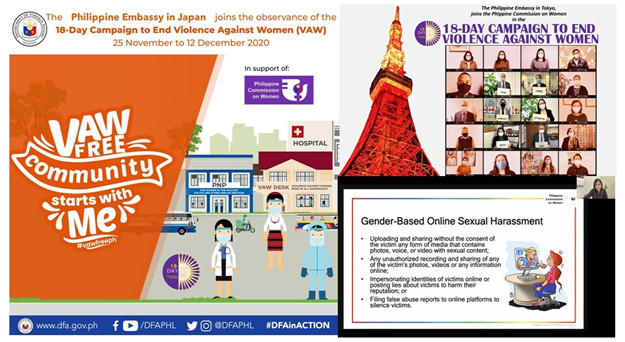 7 December 2020 — The Philippine Embassy in Tokyo joined the 18-day campaign to end violence against women (VAW) from 25 November to 12 December, with the theme "VAW-free community starts with Me."
The Embassy conducted an online seminar-workshop for its personnel on anti-sexual harassment, the Safe Spaces Act Law, and cultural myths on domestic violence. Participants gained a better understanding of what is sexual harassment and the legal avenues to ensure that the rights of persons, regardless of gender, age or rank, are respected. They also exchanged views on how our cultural and personal beliefs affect the promotion of women's rights.
Ambassador Jose C. Laurel V remarked that "a VAW-free community starts with each individual and it is important that we continue to discuss this issue so that we become more sensitive to the needs and rights of their colleagues and clients."
In the infographic above, the Tokyo Tower was added as the color of the campaign is orange and to reflect the country location of the participants.