PH Cooperation with Japan and UK for Science, Technology and Innovation
In the Department of Science and Technology (DOST) Report for the first week of December, Ambassador Jose C. Laurel V was interviewed by Secretary for Science and Technology Fortunato de la Peña on the Science, Technology, and Innovation collaborations between the Philippines and Japan.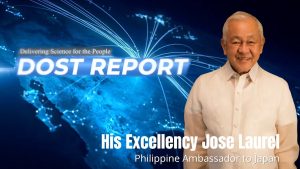 Ambassador Laurel highlighted the Philippines' fruitful cooperation with Japan and stated that "Science diplomacy plays a key role in advancing a country's national interests particularly as a foreign policy to enhance relationships, to encourage scientific cooperation and to tackle global challenges."
One of the breakthroughs of the Philippines-Japan science and technology collaboration is the development of the Philippines space program which resulted to the success of Filipino-built micro-satellites.
He added that "DOST's cooperation with Japan has induced several essential scientific and technological advancements in the Philippines such as the development of the Philippine space program and the assistance of Japan in enhancing the Disaster Risk Reduction Management (DRMM) of the Philippines."
Aside from Ambassador Laurel, other guests of the DOST Report included Japanese Ambassador to the Philippines Kazuhiko Koshikawa, Ambassador to UK Antonio Lagdameo, and Deputy Head of Mission at the British Embassy Alastair Totty.
Ambassador Koshikawa provided information on the Philippine and Japan Science and Technology collaboration such as in space cooperation, DRMM, and Capacity Building Activities. He also affirmed the Japanese Embassy in Manila's support to the furtherance of Science, Technology, and Innovation cooperation between the Philippines and Japan, and stands ready to assist DOST in facilitating enhanced people-to-people engagement through scholarships and student/scientist exchanges.
The whole interview may be accessed through DOST's YouTube channel https://www.youtube.com/watch?v=TXvvi5EAo-w.