Justice Carpio Conducts Focused Discussion On WPS/SCS Dispute for Diplomatic Corps and Japanese Officials at Dinner Hosted by Ambassador Lopez
24 September 2015, Tokyo – Senior Associate Justice of the Supreme Court Antonio T. Carpio conducted a focused discussion on the Philippine arbitration case on the dispute in the West Philippine Sea/South China Sea (WPS/SCS) before a select group of Ambassadors and officials of the Japanese Government.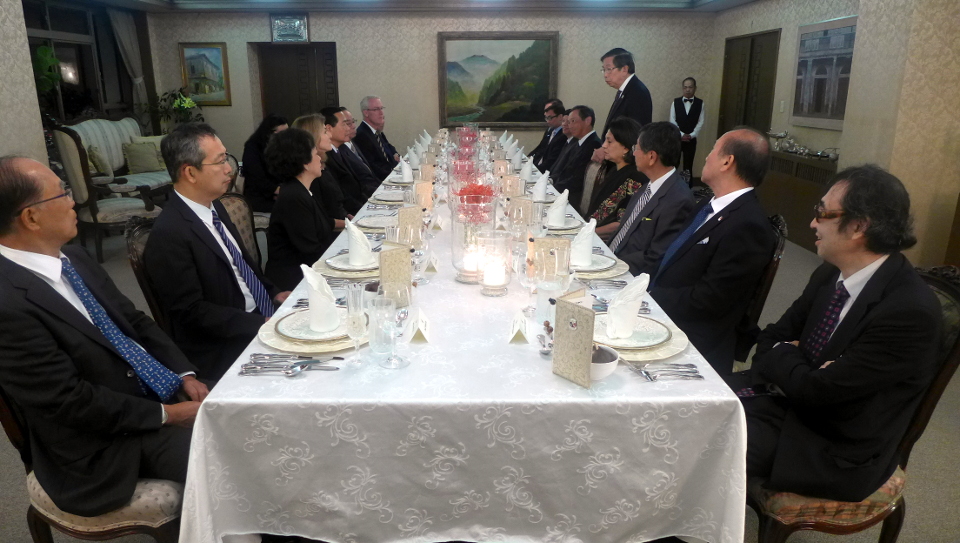 Justice Carpio spoke on the WPS/SCS issue following a dinner hosted by Ambassador and Madame Manuel M. Lopez on 24 September 2015 at the Ambassador's official residence in Kudan. The Senior Associate Justice of the Philippine Supreme Court was in Tokyo on 24 and 25 September 2015 for a presentation at a forum organized by the Embassy and the Japan Institute of International Affairs (JIIA) on 25 September 2015 in Tokyo.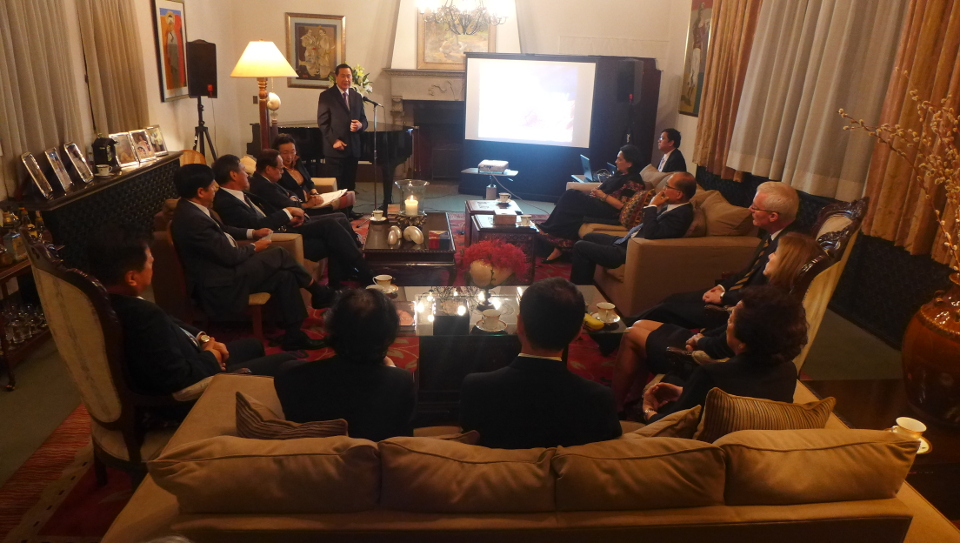 In his concise briefing for the Ambassadors and Japanese officials, Justice Carpio underscored the importance for the international community of the need to reinforce adherence to the rule of law particularly of the United Nations Convention on the Law of the Sea (UNCLOS) and peaceful settlement of disputes in the resolution of the conflicting maritime and territorial claims in the WPS/SCS. The case brought by the Philippines before the 5-member Arbitral Tribunal, constituted under the compulsory dispute settlement mechanism of UNCLOS, aims to clarify the UNCLOS-based maritime entitlements of the Philippines and other similarly situated coastal States against expansive claims based solely on historical records. Justice Carpio pointed out that "(T)he root cause of the South China Sea dispute is China's 9-dashed lines claim, which gobbles up large areas of the EEZs of the Philippines, Vietnam, Malaysia, Brunei and Indonesia."
The invited guests included Hon. Yasuo Fukuda, Former Prime Minister of Japan; Hon. Akitaka Saiki, Vice Minister of Foreign Affairs; H.E. Bruce Miller, Australian Ambassador; H.E. Deepa Gopalan Wadhwa, Ambassador of India; H.E. Caroline Kennedy, Ambassador of the U.S. H.E. Nguyen Quoc Cuong, Ambassador of Viet Nam; Amb. Koji Tsuruoka, Chief Negotiator for TPP, Cabinet Office; and ranking officials from the Ministry of Defense, international law professors, and executives of think-tanks.

The following day, Justice Carpio delivered a lecture on the topic "China's Land Reclamation In The South China Sea/West Philippine Sea, A Challenge to the Survival of the UNCLOS" at the JIIA forum held at the Bosei-no-ma, Tokai University Club, attended by some 120 participants from JIIA affiliated organizations, diplomatic corps, university professors and students, government officials and researchers.