Filipino Entry Wins as Official Catchphrase for "The 50th Year of ASEAN-Japan Friendship and Cooperation"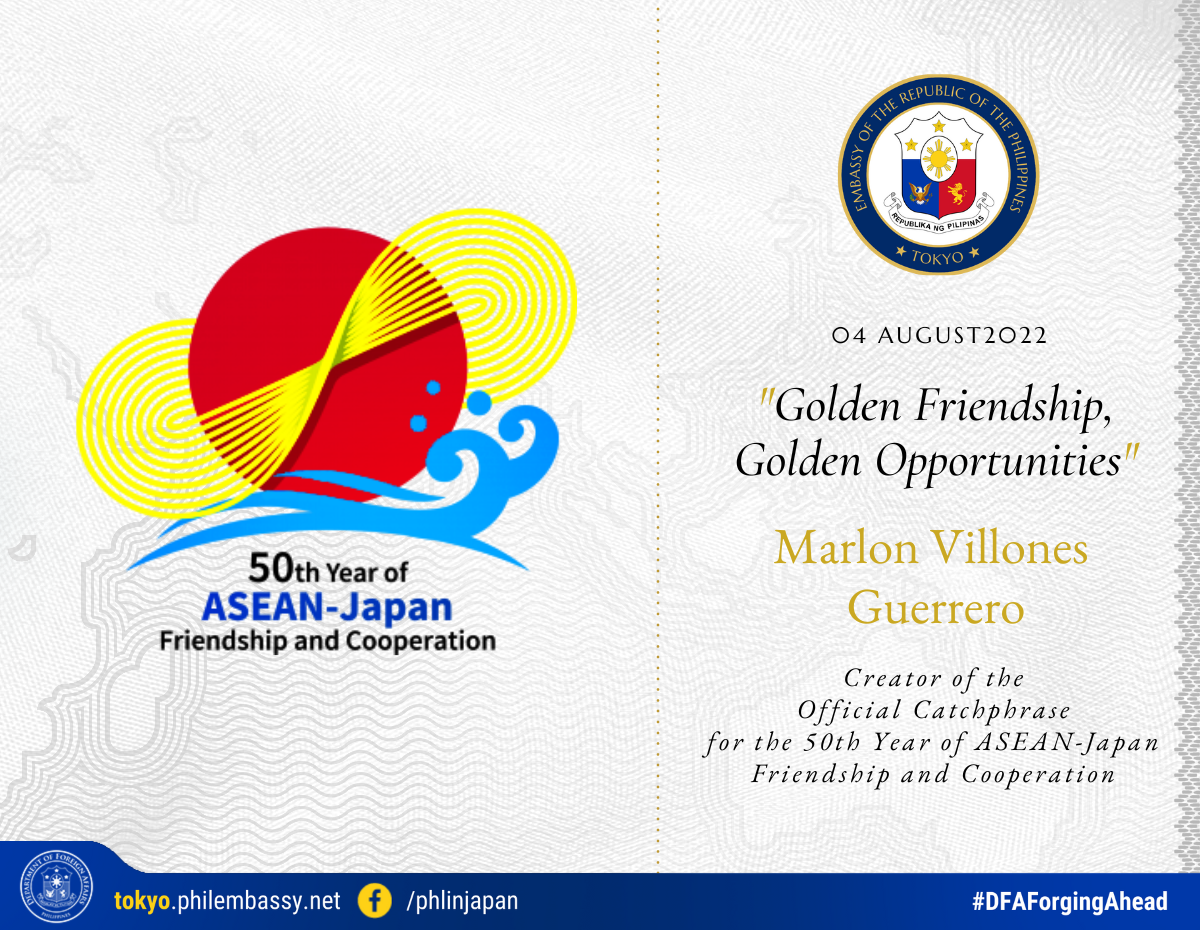 04 August 2022 – The official logo and catchphrase for "The 50th Year of ASEAN-Japan Friendship and Cooperation" were jointly announced by Foreign Ministers of ASEAN and Japan at the ASEAN-Japan Foreign Ministers' Meeting in Phnom Penh, Cambodia.
Out of the 393 logo design and 620 catchphrase entries from the 10 ASEAN Member States and Japan, the logo designed by Tanabe Masaya (Japan) and catchphrase created by Marlon Villones Guerrero (The Philippines) have been selected as winners by the Mission of Japan to ASEAN and Permanent Representatives to ASEAN from the ASEAN Member States in Jakarta.
"The Philippines considers Japan as one of ASEAN's most important partners. As we celebrate the golden anniversary of this relationship, we are deeply honored that the Japanese side has chosen a tagline written by a Filipino to characterize the future of the ASEAN-Japan partnership: the next fifty years and beyond, full of golden opportunities," Chargé d'Affaires Robespierre L. Bolivar remarked.
According to Mr. Guerrero, the catchphrase "Golden Friendship, Golden Opportunities" was inspired by his home province, Camarines Norte, which is known for its historic gold town, Paracale, and has been dubbed "The Land of Gold and Golden Opportunities". Explaining the idea behind the winning catchphrase, Mr. Guerrero said that "Golden Friendship" marks 50 years of friendship between neighboring nations, while "Golden Opportunities" represents how ASEAN and Japan look forward to another 50 years of friendship and cooperation, including in our concerted efforts to recover from the effects of the COVID19 pandemic.
Throughout 2023, several commemorative events and exchange programs are scheduled to mark the 50th anniversary of ASEAN-Japan friendship and cooperation.