Embassy Welcomes Two PCG Students for the Masters Degree Program on Maritime Safety and Security Policy
01 October 2015, Tokyo – The Philippine Embassy welcomed two officers from the Philippine Coast Guard who will undertake an intensive one-year study program leading to a Master's Degree on Maritime Safety and Security Policy (MSP) at the National Graduate Institute for Policy Studies (GRIPS) in Tokyo.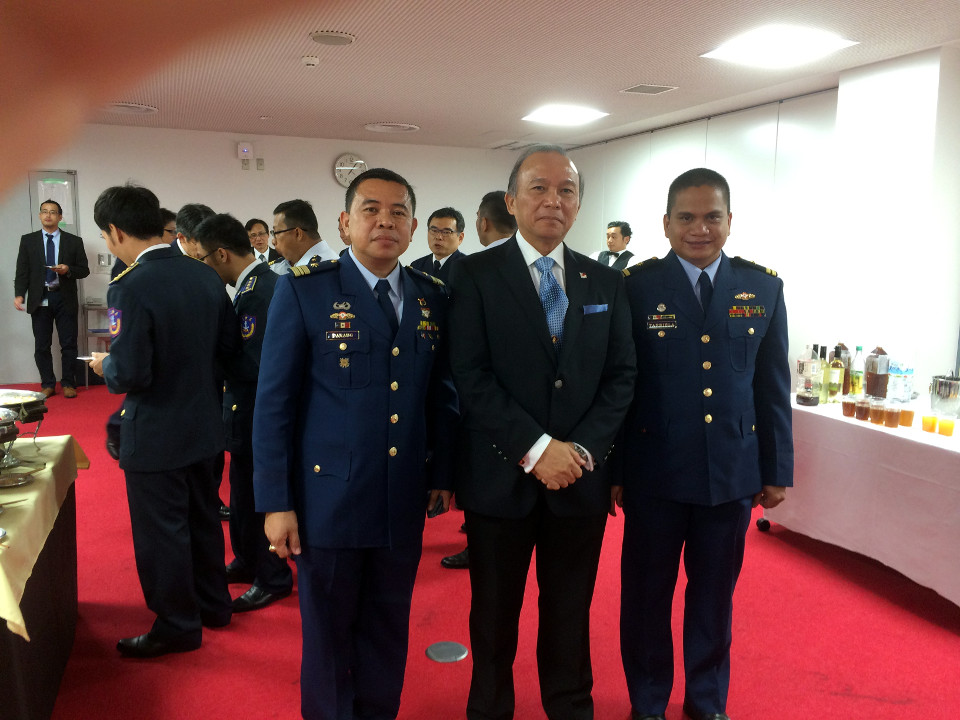 Chargé d' Affaires Gilberto Asuque (photo left, center) congratulated . Lieutenant Commander Glen B. Daraug, Chief, Coast Guard Station Bacolod (left) and Lt. Jay T. Tarriela, Spokesperson, Coast Guard District Palawan (right) both from the Philippine Coast Guard (PCG) who were selected after an extensive evaluation and interview by the Japan International Cooperation Agency (JICA) and GRIPS to be among the 10 students for the first batch of enrollees for this post-graduate degree program. CDA Asuque emphasized to LCDR Daraug and Lt. Tarrriela the importance and timeliness of their Master's Degree course in the efforts of the Philippines to improve its capacity for maritime domain awareness and in the enforcement of laws within the country's maritime jurisdiction.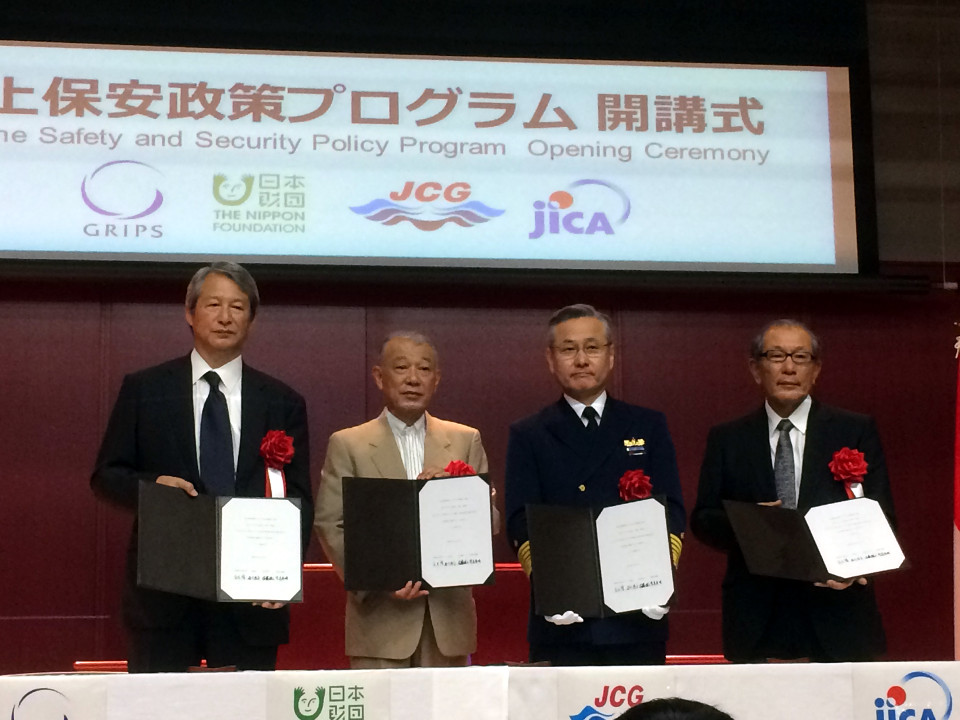 The new MSP program was launched with the partnership of the GRIPS, Nippon Foundation, Japan Coast Guard and JICA, whose top executives signed the cooperation agreement during the launching ceremony and introduction of the course participants held at the Soukairou Hall of GRIPS on 01 October 2015 (photo right). The post-graduate degree program aims to develop the capabilities of personnel to act appropriately and with flexibility to various incidents in the oceans with a high level of practical and applicable knowledge, analytical skills, problem-solving ability, as well as international communication capabilities. The MSP program will also enhance the knowledge of the participants in international law including the UN Convention on the Law of the Sea and international relations. All students will be required to submit a policy paper as their MSP thesis.
LCDR Daraug and Lt. Tarriela join 8 other coast guard officers from Indonesia, Malaysia, Vietnam and Japan for the inaugural batch of the MSP Program (photo below, top row). The MSP students joined the guests of honor during the inaugural program namely, H.E. Akihiro Ohta, Minister of Land, Infrastructure, Transport and Tourism; Mr. Takashi Shiraishi, Ph.D., President, GRIPS; Mr. Yohei Sasakawa, Chairman, The Nippon Foundation; Commandant Yuji Sato, Japan Coast Guard; the Vice President of JICA (front row), and H.E. Amb. Nguyen Quoc Cuong of Vietnam, CDA Asuque, and Capt. Mohd Izzudin Ahmad, Defense Attaché of Malaysia (r-l, second row).