Embassy Welcomes Members of Class 76 of Naval Command and Staff Course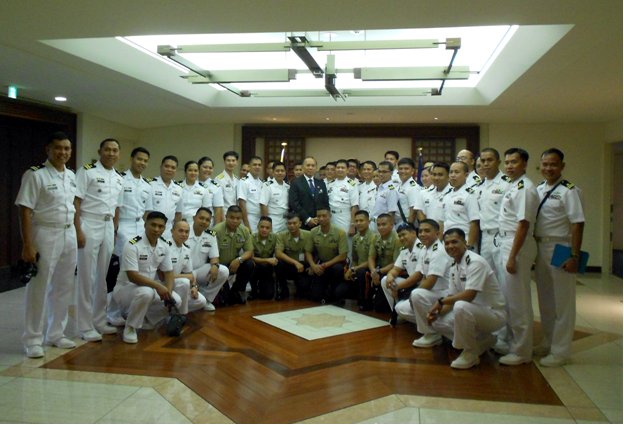 30 September 2014 – The Embassy welcomed the members of Class 76 of the Naval Command Staff Course (NCSC CL 76) who are in Tokyo for the Informational Program Visit (IPV) as part of their training program.
Deputy Chief of Mission Gilberto Asuque and Defense Attaché Captain Samuel Felix received the NCSC CL 76 and briefed them on Philippines-Japan relations including cooperation on mutual defense matters.
NCSC CL 76 is composed of 40 student naval officers including 2 officers from Indonesia and Vietnam who are on a 5-day seminar in Japan under the supervision of the Naval Officers Schools Center of Philippine Navy Naval Education and Training Command (NETC). This is the first foreign IPV of the NETC that enables the naval officers to explore and learn about the different industries directly involved in the defense and security posture of the Philippines, foster camaraderie and good relationship with the foreign countries they visit, and study the culture and economy of the host country.
Mr. Asuque and Capt. Felix also briefed the naval officers on the issues in the West Philippines Sea and the efforts to resolve the issues peacefully and in accordance with international law.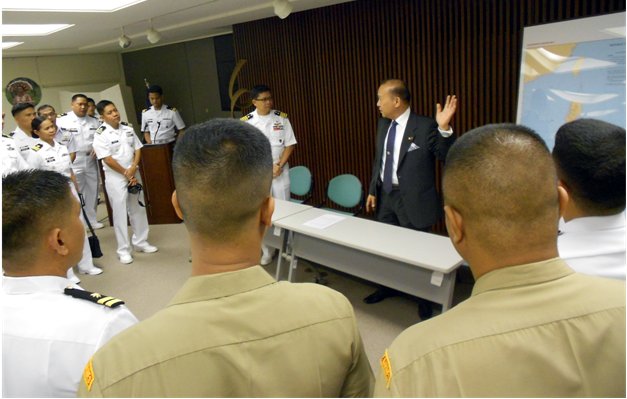 The NCSC CL 76 is headed by Capt. Virme P Torralba (MNSA), Deputy Commander, NETC, (photo above left of Mr. Asuque) with the assistance of 7 training staff.