Design-driven products showcased at the Asia Pacific Ladies Festival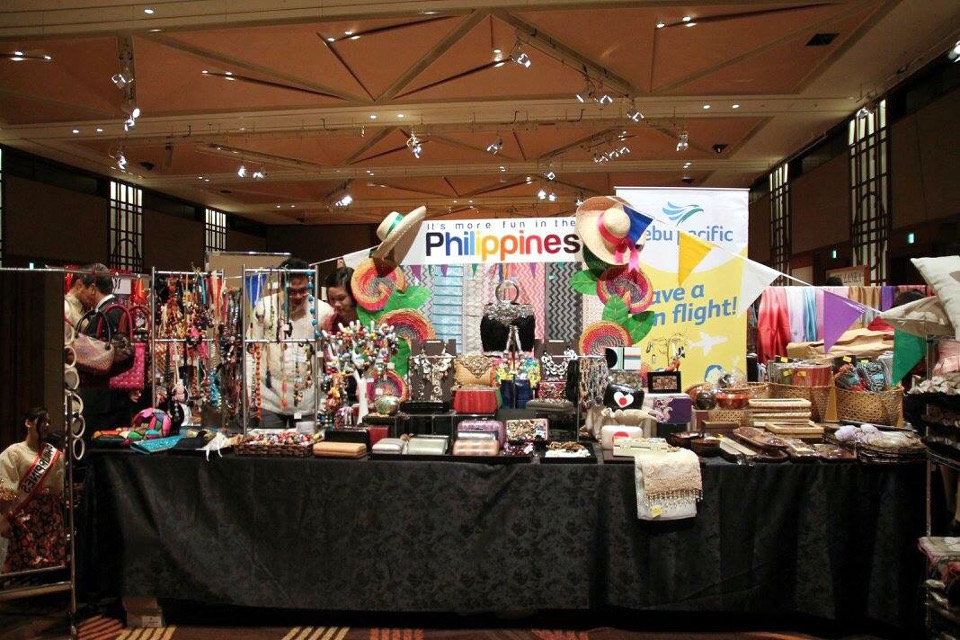 On Wednesday 6th April 2016, the Philippine Embassy in Tokyo led by H.E. Ambassador Manuel M. Lopez and Madame Maria Teresa L. Lopez, participated in the 40th Asia-Pacific Festival and Charity Bazaar organized by the Asia-Pacific Ladies Friendship Society (ALFS) at the ANA InterContinental Tokyo.
The Asia Pacific Festival and Charity Bazaar is an annual event of the ALFS, whose members include spouses of former ambassadors of 26 Asia Pacific countries, including the Philippines. A highly anticipated event among Japanese and international women, the event provides visitors an opportunity to check the latest fashion accessories (pearls, jewelries, wearables), special clothing and fabrics, indigenous food and crafts from Japan and various countries. As in the previous years, Her Imperial Highness Princess Hitachi graced the event. Also gracing the event was Madame Akie Abe, spouse of Prime Minister Shinzo Abe.
This year, through the efforts of Madame Lopez, the Philippine Trade and Investment Center in Tokyo (PTIC Tokyo), the Department of Agriculture Office, and the Cultural Section of the Philippine Embassy, a wide variety of Philippine food and non-food items were sold and showcased, from culinary favorites such as adobo, chicken and pork barbeque, pancit, lumpia and turon to design-driven products from sofa throws (Ylocos Heritage Arts & Crafts), shoes (Ai-she footwear and Risque Designs) handbags, home décor like pillows (Tara Designs Philippines, Inc.), fashion accessories (La Piezza Jewelry Creations) and more, highlighting craftsmanship and sensitivities of Philippine design.
Statement handbags on display from Adante Leyesa of Adante Collections and Tessa Nepomuceno of CALLI, two young Filipino fashion designers, immediately caught the attention of the most prominent members of the ALFS.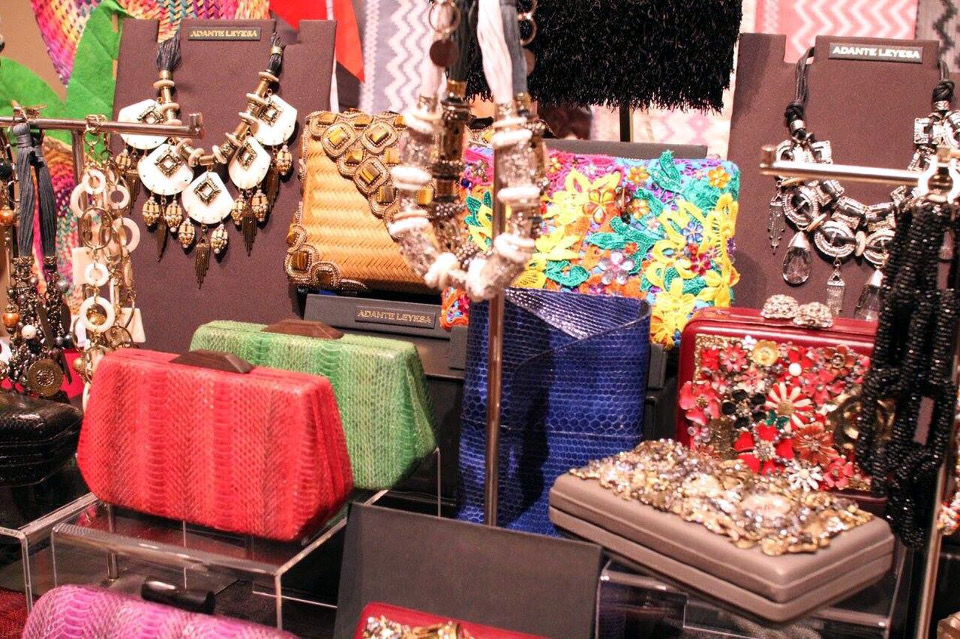 Adante Leyesa, a multi-awarded fashion designer, offered distinctively innovative handcrafted bejeweled accessories. Intricate, unique and standout are only few words to describe his work, and made it a bestseller during the bazaar. His jewelry pieces are formed using variety of materials: local weaves, woods semi-precious stones, tiny beads, metal chains and multi-step processes forming thoughts and feelings; discovery and craft; story and art. Women with flair in haute couture and those who dare to make bold statements will adore his exquisite designs and superb craftsmanship.

CALLI embodies the Filipino woman's elegance, style and sophistication. Tessa's handcrafted wooden bags are a reflection of the global woman, showcasing a merger of eastern techniques and woodcarvings paired with western designs. Bags are made from acacia trees – half from fallen ones during typhoon season in the Philippines. To ensure steady supply of raw materials, Tessa's team sees to it that new seedlings are planted to avoid deforestation.
The Asia Pacific Ladies Festival and Charity Bazaar acts a continuing platform for PTIC Tokyo to expand its reach in showcasing the quality of exports from SMEs & MSMEs and the regions to end users in Japan. The event is also an opportunity to identify trends in current demand, allowing PTIC Tokyo to ascertain the acceptability of a wide range of Philippine food, handicrafts, products, gifts and souvenir items to Japanese consumers in terms of functionality, utility and price points.
The ALFS' Bazaar is Phase 1 of trade-related events by PTIC Tokyo and is part of the kick off events to celebrate the 60th anniversary of the normalization of diplomatic relations between the Philippines and Japan this year. Phase 2 is the Trade Pavilion which PTIC Tokyo will put up at the Philippine Festival to be held on June 18-19, 2016 at Hibiya Park.