Building Friendships between Filipino and Japanese Youth
14 March 2019 – Responding to the gesture of solidarity received from the Philippines, students from the Yoshida Elementary School of Ehime Prefecture expressed their appreciation to the schoolchildren of Dulag Central School in Leyte for their sympathy messages sent through the Philippine Embassy in Tokyo. Ambassador Jose C. Laurel V presented the sympathy messages to the Japanese schoolchildren in a letter to His Excellency Taro Kono, Minister for Foreign Affairs, during the celebration of the Philippines-Japan Friendship Day in Tokyo on 23 July 2018.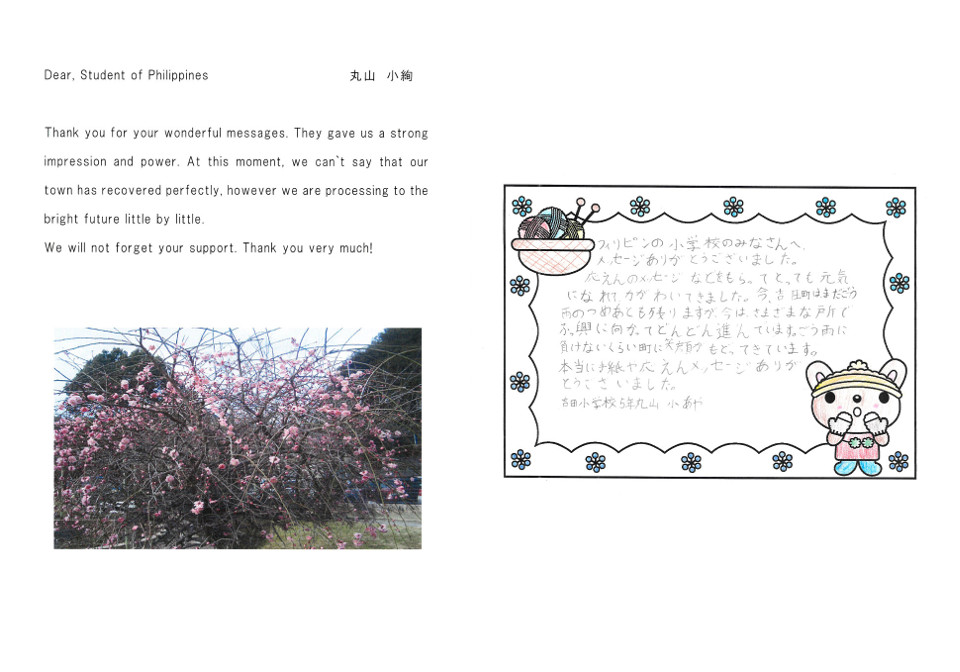 Mr. Kunimasa Takatsuki, Principal of the Yoshida Elementary School said that the messages of sympathy were posted at the entrance of their school which made their students very happy. One student said that the messages of sympathy gave them "strong impression and power" while others found strength and courage in those messages to continue with their lives after a traumatic experience.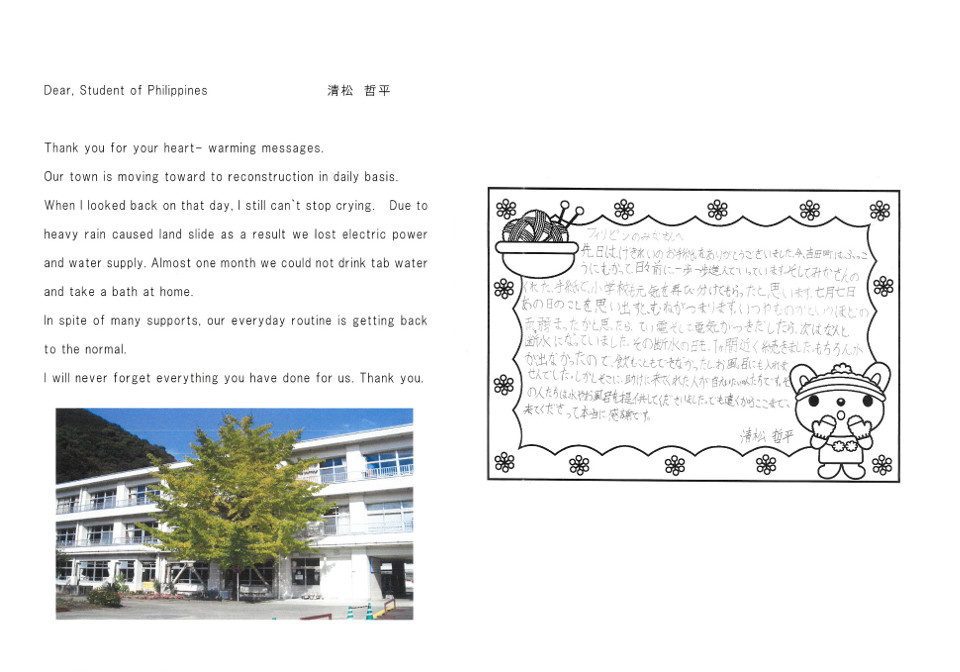 In a statement, Ambassador Laurel shared that he is pleased to be the intermediary for young people to become friends. This exchange between school youths from different parts of the world of shared experience, in this case, in facing a natural calamity can be the start of a wonderful friendship. "I hope to build the heart-to-heart connections of our peoples and of the next generation", Ambassador Laurel added.
In their own little way and in partnership with Philippine Embassy in Tokyo, the schoolchildren of the Dulag Central School sent hand-written messages, photos as well as video messages of sympathy to the schoolchildren of Japan when heavy rainfall hit the western part of Japan in July 2018. One of the affected schools was the Yoshida Elementary School in Uwajima City in Eheme Prefecture.
Dulag Central School is one of the recipients of assistance from the Japan International Cooperation Agency (JICA) under the "Build, Back, Better" concept, after it was severely damaged by Typhoon Yolanda in late 2013.