Aomori War Bereaved Association Turn Over Cash Donation For Victims of Typhoon Yolanda in Leyte
16 June 2014, Tokyo – Mr. Gilberto G.B. Asuque,Charge d' Affaires, Philippine Embassy, Tokyo, receives from Mr. Fumiaki Saito, President of the Aomori War Bereaved Association, the envelope containing the cash donation of ¥46,050 for the victims in Leyte of Typhoon Yolanda (Haiyan). Mr. Iwao Osaka, Chairman of the Association, joined Mr. Saito in the simple turn-over ceremony at the lobby of the Embassy.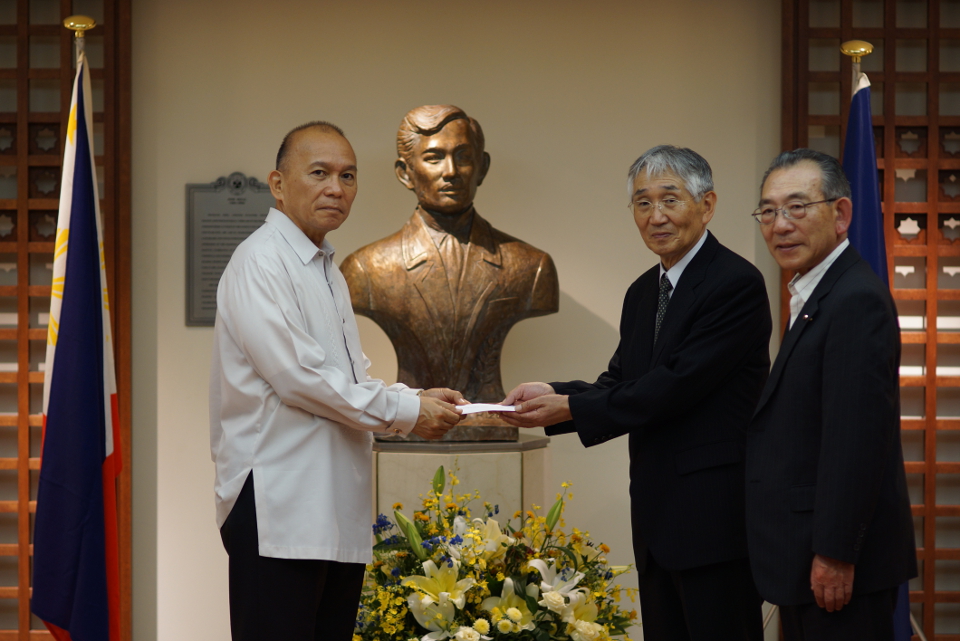 Mr. Saito and Mr. Osaka informed Mr. Asuque that the people of Aomori Prefecture especially the members of the Association share a strong bond of friendship and care with the people of Leyte having experienced difficult episodes in their lives. Mr. Saito and Mr. Osaka said their fathers were soldiers during the Second World War and died during the battle in Leyte. They added that 8,000 Japanese soldiers from the Aomori Prefecture died in Leyte during WWII, which is one third of the total number of soldiers from Aomori who saw action in the Philippines especially in Leyte.
Mr. Saito said the Aomori War Bereaved Association has been organizing visits to Leyte every year since 1995 to remember their war dead. Thru these visits to Leyte, the Association officials said they have established very close relations with the Philippines and the donation reinforces their ties with the people of Leyte as an expression of their concern for the difficulties caused by the typhoon.
The Embassy will be forwarding the donation to the relevant agencies involved in the rehabilitation of the lives and the rebuilding of homes of the victims of Typhoon Yolanda in Leyte. END