Two NGOs, Two Dentists With Socio-Community Projects in Philippines Conferred 2014 Award for Encouragement of Social Contribution
01 December 2014 – Two Japanese NGOs and two dentists were conferred the prestigious "Award for Encouragement of Social Contribution 2014" for their voluntary and charitable work in various communities in the Philippines
The Foundation for Encouragement of Social Contribution (FESCO) conferred the 2014 Award to Salt Payatas, Glocal Gift Net, Dr. Eiro Kutoba and Dr. Shinjiro Kawano (both Japanese dentists) during ceremonies on 01 December 2014 at the Imperial Hotel Tokyo with Princess Yoko Mikasanomiya as the honored guest.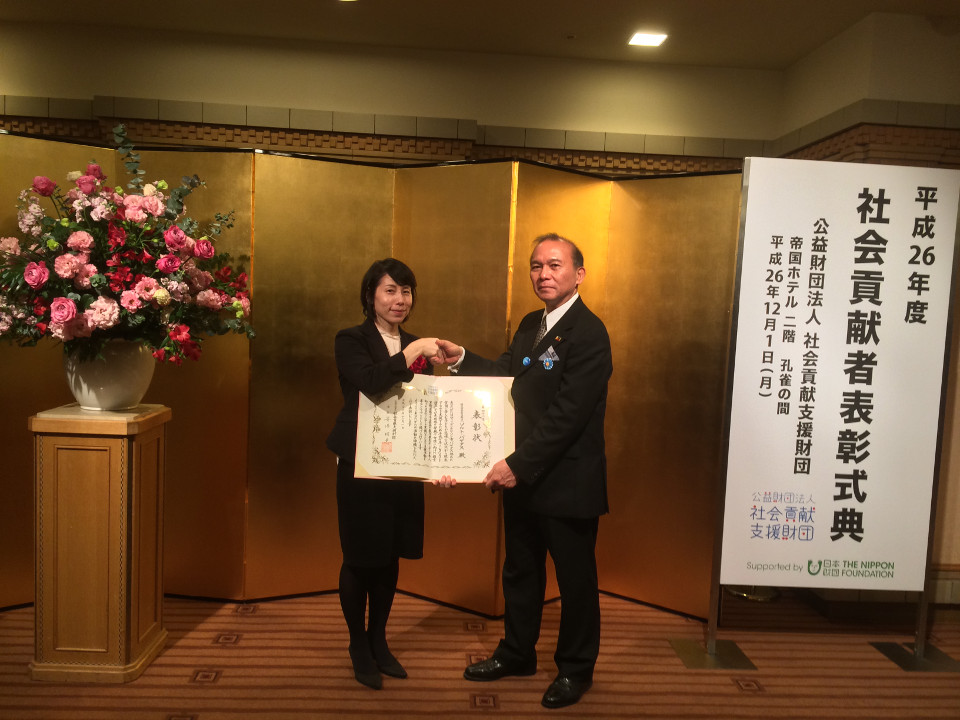 Mr. Gilberto Asuque, Deputy Chief of Mission, Philippine Embassy congratulated the Awardees for the recognition of their socio-community activities in various depressed communities in the Philippines. Mr. Asuque conveyed the Embassy's appreciation to Ms. Emiko Ogawa, Executive Director, Salt Payatas Foundation Philippines Inc. (photo above). Salt Payatas was established in 1995 to provide support for children and their mothers who subsist on income they derive from retrieving usable items in the dumpsite in Payatas, Quezon City. With the vision and mission that education is necessary for children to escape from poverty, Salt Payatas undertakes education activities through the grant of scholarships, activities to support the production and sale of handicrafts as stable income sources, and local study tours for Japanese that include inspection visits at the Payatas site. Salt Payatas aims to change the poor image of Payatas to a town known for its embroidery, and gives encouragement to women to generate income through embroidery. The project has grown to the stage where it is actually generating enough profit to enable the women in the community to earn a decent living.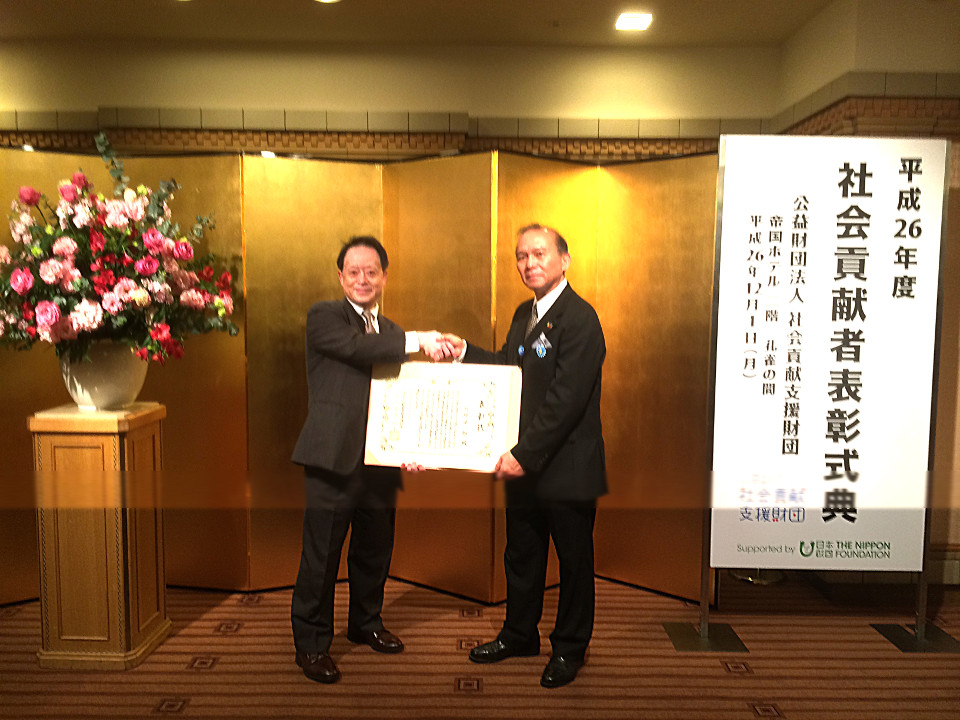 Dr. Eiro Kutoba and Dr. Shinjiro Kawano have been providing dental care as volunteers in the Philippines since 1987. They started by treating tooth decay among the residents of Cebu and Negros provinces, and later expanded their acitvities to public health by teaching people how to properly brush their teeth and use fluoride mouth rinse. During their treatment of patients, Dr. Kubota and Dr. Kawano noticed many people with cleft lips and palates, and they were surprised to find that they were not provided surgical treatment. After a 3-year preparation, the two Japanese dentists launched a project to provide surgical treatment for people with cleft lips and palates in 2001 in Negros province. Since then, they have conducted surgery on over 200 people in 10 years. DCM Asuque conveyed to Dr. Kawano (photo above) and through him, to Dr. Kutoba, the embassy's appreciation for their charitable mission in the Philippines.
Glocal Gift Net commenced its charity work in 2003 with a view to conducting in Japan activities similar to those being undertaken in Europe and the United States such as providing Christmas gifts to children in poor areas. Since then Glocal Gift Net has expended its activities to include international education and cultural exchange programs, which include study tours, the sponsor of program projects that operate kindergartens and provide support for education in the Philippines, and charity projects that sell fair trade products made by parents of kindergarten children. Glocal Gift Net operates mainly in Manila and Cebu and in Phnom Penh, Cambodia. The NGO has engaged in charitable work for almost ten years.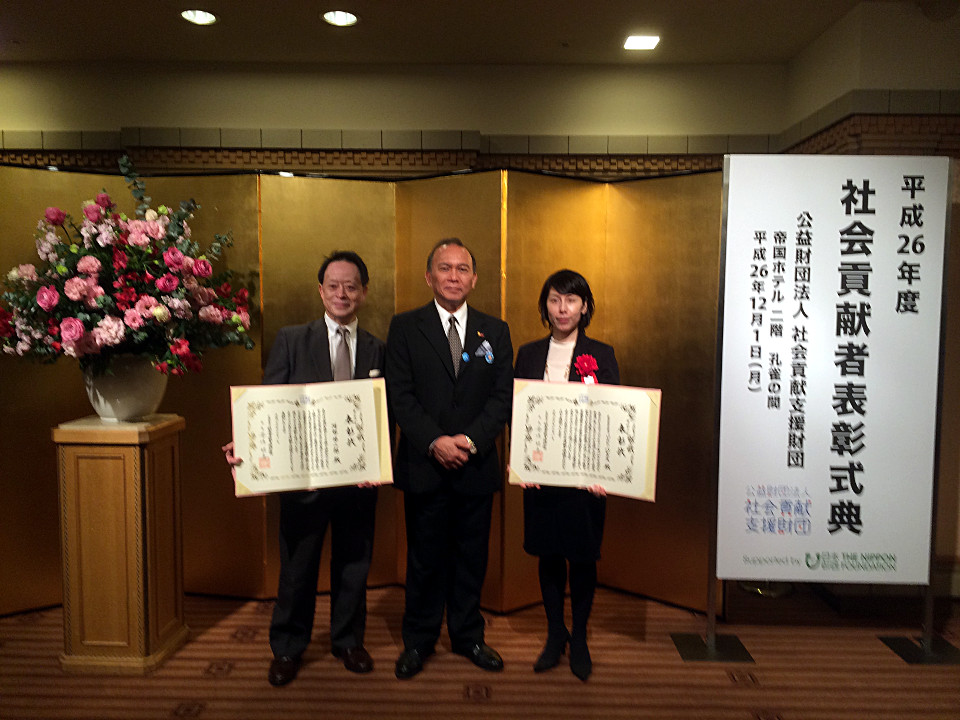 Following the awarding ceremony, DCM Asuque convey on behalf of the Embassy the congratulations to Salt Payatas, Glocal Gift Net, Dr. Kawano and Dr. Kutoba (photo left) for their valuable socio-community endeavors in the Philippines and wished them continued success for their charitable works.
FESCO, formerly known as the Nippon Kenshokai Foundation, is a private incorporated body established in 1971 and funded by investment profits as well as donations from other foundations. FESCO aims to publicize and make known the good works of those who have contributed to society by conferring awards to NGOs and individuals for their humanitarian efforts and largely unrecognized contributions to society, as well as for promoting community service movements and the development of society as a whole.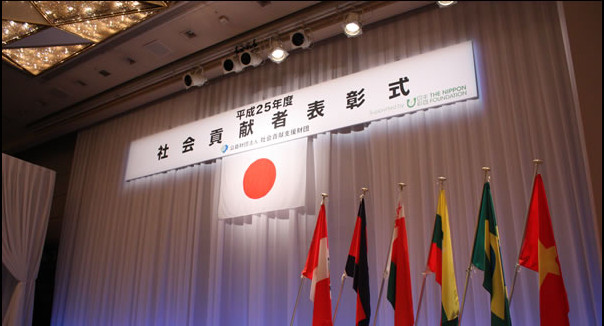 The FESCO Awards include emergency life saving, transportation and traffic safety, promotion of social welfare, education of young people, development of local societies, international cooperation, protection of the environment and conservation of the safety of the sea, etc. Awards are given every year. Candidates are widely nominated from the general population. The Award Selection Committee decides on the awardees after examining the services and contributions made by nominated candidates. A total of 47 organizations and individuals each received the 2014 Award. Main awardees also received a cash donation from the Nippon Foundation Prize as funding for their charity projects.
The award ceremony is held under the auspices of the Ministry of Foreign Affairs, with co-support from the Cabinet Office, the Ministry of Education, Science, Sports and Culture, the Ministry of Health, Labour and Welfare, the Ministry of Land, Infrastructure and Transport, and the Ministry of Public Management, Home Affairs, Posts and Telecommunications.