Philippine Embassy in Tokyo Personnel Prepare for Nihongo Proficiency Test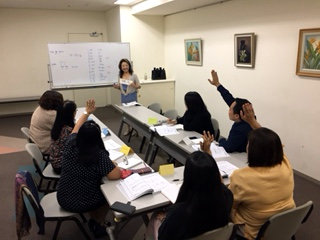 Fifteen (15) personnel of the Philippine Embassy in Tokyo are attending a 5-month Nihongo language course from July to November 2017. Classes are divided into the Novice Class and the N5 Class and held once a week at the Embassy from 5:30 in the afternoon.
The Novice Class is for those who are new to the language while the N5 Class is for those who are preparing for the Japanese Language Proficiency Test administered by the Japan Foundation and the Japan Educational Exchanges and Services. The N5 Test measures and certifies the basic Japanese-language proficiency of those whose native language is not Japanese.
The Nihongo language course is part of the professional and personal development programs for Embassy personnel. Enrollees of the language course personally paid for their tuition fees that cover instructional materials and a textbook. A licensed Japanese language teacher is conducting the two classes. END.