Philippine Embassy in Tokyo Briefs The Philippine Chamber of Commerce and Industry in Japan (PCCIJ) on Philippine Overseas Labor Policies and Issues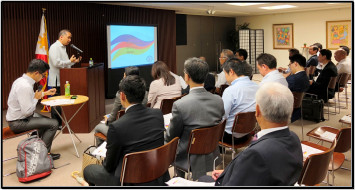 On 23 July 2018, the Philippine Embassy in Tokyo, represented by Deputy Chief of Mission Eduardo M.R. Meñez, briefed the Philippine Chamber of Commerce and Industry in Japan (PCCIJ) on Philippine overseas labor policies and issues in Japan.
DCM Meñez presented the current statistics on Overseas Filipino Workers (OFWs) in various categories such as professional, skilled, semi-skilled and domestic workers. He also provided updates on the new Technical Intern Training Program (TITP) which would allow more foreign workers into Japan. The Philippine Overseas Employment Administration (POEA) will soon release its implementing rules and regulations on the TITP.
As the third largest migrant community next to the Chinese and Koreans, Filipino residents and workers in Japan continue to contribute to the Japanese economy. The Philippines' young, educated and English-speaking workforce matches many of the job categories needed in Japan. The strong and friendly bilateral relations and the increasing ease of travel between the Philippines and Japan also open more possibilities for business ventures thereby expanding the exchange of workers in both directions.
The seminar was held by the PCCIJ as part of its regular exchange of updates and useful information on business, trade and investment. The PCCIJ is a group of Filipino companies in Japan that aims to develop and advance Philippines-Japan relations through international trade and investments.