Life and Legacy of Sec. Domingo L. Siazon, Jr., Honored at Memorial Ceremony; Tributes Paid At Highest Levels to Former Foreign Secretary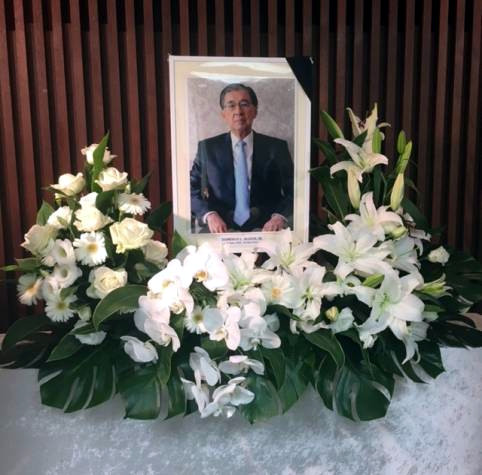 TOKYO, 12 May 2016 – Over 200 Filipino and Japanese government and business officials paid tribute to the life and legacy of the late Honorable Domingo L. Siazon, Jr., former Secretary of Foreign Affairs of the Philippines and Philippine Ambassador to Japan, at a Memorial Ceremony held in his honor at the Chancery of the Embassy of the Philippines to Japan. Secretary Siazon passed away at the age of 76 last May 3, in Tokyo.
Moving tributes were paid by a roster of mourners and friends of long-standing that included former Prime Minister of Japan Yasuo Fukuda, DFA Undersecretary for Administration Mme. Linglingay F. Lacanlale, incumbent Philippine Ambassador to Japan Manuel M. Lopez, House of Councillors Member and Japan-Philippines Parliamentarians' Friendship League Chairman Kenji Kosaka, former Japanese Ambassador to the Philippines and Philippine Society of Japan President Makoto Katsura, and Moroccan Ambassador to Japan Dr. Samir Arrour.
The evening's eulogists were one in conveying admiration for the late Secretary's towering intellect, keen insight and extraordinary analytical abilities, and passion for international relations and diplomacy, as well as the respect he commanded in world affairs and diplomacy. Poignant recollections were also made of his warm and caring person, wit and humor, generosity and devotion to family, qualities that greatly endeared him to his colleagues in the service and those he had worked with.
Further attesting to the high esteem the Japanese government and people held for Secretary Siazon, a message of condolence from Their Majesties the Emperor and Empress was privately conveyed to Madame Kazuko Siazon and her family by Ambassador Yoshitaka Akimoto, Grand Master of Ceremonies of the Imperial Household Agency. Messages and flowers were also delivered in the name of Her Imperial Highness The Princess Takamado, H.E. Prime Minister Shinzo Abe and H.E. Foreign Minister Fumio Kishida.
Lending further honor to the rites was Her Imperial Highness Princess Tomohito of Mikasa, who paid a brief visit to offer flowers and personally extend words of sympathy to Mme. Siazon and the bereaved family.
Prime Minister Abe also sent his own message of condolence, which was publicly read out by the Honorable Seiji Kihara, State Minister for Foreign Affairs. Messages from former Philippine President Fidel V. Ramos and incumbent IAEA Director General Yukiya Amano were also read during the service.
Mr. Dan I. Siazon, eldest son of the late Secretary, delivered a moving response on behalf of the family.
Joining the mourners on behalf of the late Secretary's grieving colleagues in the Philippine Foreign Service were DFA Undersecretary for Migrant Workers Affairs Jesus I. Yabes and Philippine Foreign Service Institute (FSI) Director General Claro S. Cristobal, who had both worked closely with the late Secretary and at different times served as Consul General at the Philippine Embassy here.
The Honorable Domingo L. Siazon, Jr., served as Secretary of Foreign Affairs from 1995 until 2001. He was twice Philippine Ambassador to Japan, serving in 1993 to 1995, and again from 2001 until 2010. He became the first Director-General of the United Nations Industrial Development Organization in 1985, a position he held until 1993.
As Foreign Secretary at a time of growth and change within ASEAN and the larger region, he worked assiduously with foreign counterparts, who sought his support and counsel, in the service of the goals of regional peace and prosperity. Reflecting his own private life, Secretary Siazon held a special place in his heart for Philippine-Japan affairs. It was at the Philippine Embassy in Tokyo that Secretary Siazon started and closed his illustrious Foreign Service career in 1964 and 2010, respectively. END