Christmas Message of Secretary of Foreign Affairs Teodoro L. Locsin, Jr.
MESSAGE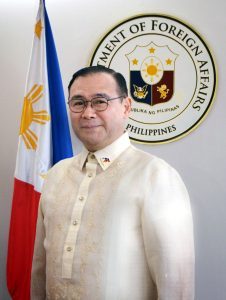 I and the entire Department of Foreign Affairs greet our countrymen all over the world, hardworking overseas Filipinos and their families, peace, happiness and good health this Yuletide season.
We reaffirm our commitment, under the leadership of President Rodrigo Roa Duterte, to provide real change and a comfortable and secure life for all Filipinos in every aspect of the country's diplomacy and foreign policy.
For 2019 and beyond, the Department renews its support for the government's solemn responsibility to protect the Filipino people against crimes that dehumanize their victims such as drugs, trafficking and terrorism with its utter disregard for human life and dignity. We shall proclaim to the international community in any forum the Philippines' duty towards the law-abiding against the lawless; and the innocent against those who threaten their safety and wellbeing.
To my dear colleagues in the Philippine Foreign Service, thank you for your patriotism, dedication and effort for the welfare of our country and our nationals abroad. With our vision of a strong Philippines through a resilient foreign service, you always put the nation's interest at the forefront, be it in pursuing our independent foreign policy, helping Filipinos in distress, representing the country in international conferences and negotiations, or in providing consular assistance.
In partnership with all stakeholders, we shall work together to build a safer world for the Filipino people. Through teamwork, we shall continue to deliver the world-class public service that our country and people deserve, most especially in promoting and protecting the welfare and interests of Filipinos overseas.
As we celebrate this joyous Christmas season and welcome another New Year, let us all look forward to a more peaceful and prosperous Philippines and a better future for all Filipinos.
Maligayang Pasko at Mapayapang Bagong Taon sa inyong lahat!
TEODORO L. LOCSIN, JR.
Secretary of Foreign Affairs
Pasay City, December 2018