10 Philippine Films Take Center Stage in the Crosscut Asia Portion of the 28th Tokyo International Film Festival
23 October 2015, Tokyo – Ambassador Manuel M. Lopez conveyed the appreciation to the Japan Foundation and the Tokyo International Film Festival (TIFF) for selecting the Philippines as the featured country in this year's Crosscut Asia portion of the 28th TIFF.

In remarks at the reception held at the Roppongi Academy Hills for the participants in the TIFF, Amb. Lopez said it is "truly a great honor for the Philippines to be chosen as the featured country in this year's Crosscut Asia portion" of the TIFF as he expressed the hope that the annual film festival and all the directors and actors will serve as "bridges linking the peoples of Asia closer together."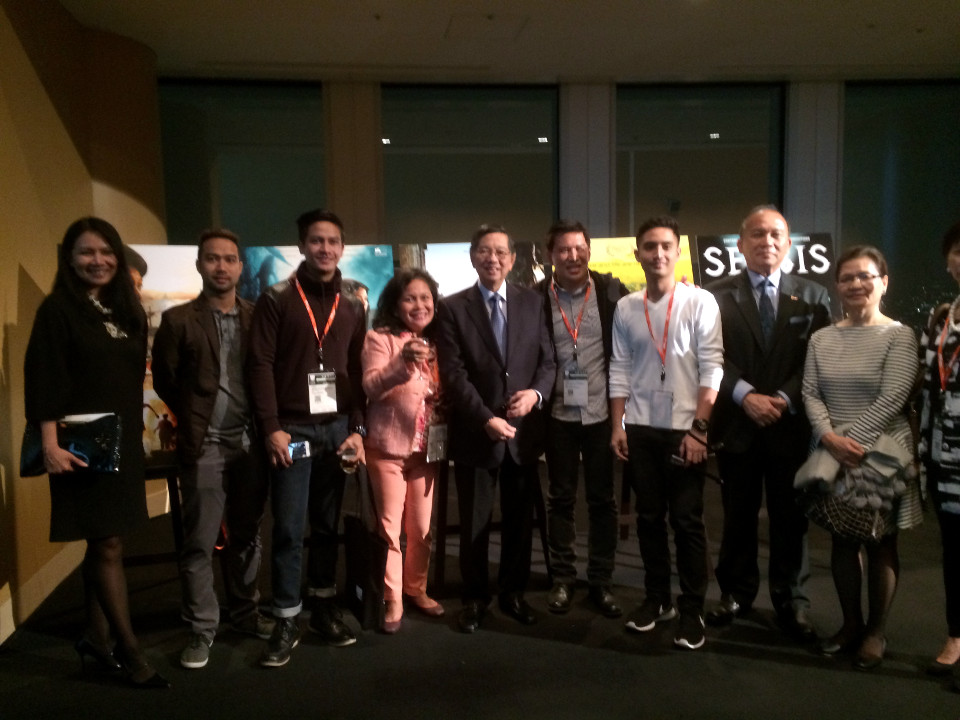 The Ambassador encouraged the Japan Foundation and the TIFF to have more exchanges of film and culture between the Philippines and Japan as the two countries celebrate next year the 60th anniversary of the establishment of official diplomatic relations.
Ambassador Lopez, accompanied by DCM and Madame G. Asuque, Cultural Officer Angelica Escalona and Embassy officers and staff (photo right), congratulated the Filipino directors, actors, producers and crew led by the acclaimed director Brillante Ma. Mendoza for the featured showing at various movie houses in Tokyo of ten (10) Filipino films during the Crosscut Asia portion of the TIFF held from 22-31 October 2015.

The Filipino films are Taklub, Foster Child, Serbis, Lola, Thy Womb by Director Ma. Mendoza; Balut Country by Director Paul Sta. Ana; BalikBayan #1 Memories of Overdevelopment Redux III.5 (Working Title, 1979-2015) by Director Kidlat Tahimik; Imbisibol by Director Lawrence Fajardo; Kid Kulafu by Director Paul Soriano; and the Filipino classic Himala by Director Ishmael Bernal. (Photos above, l-r)
In his remarks, Amb. Lopez said: "From the time Dalagang Bukid – the first Filipino silent film – was produced in 1919 until the present, Filipino movies have reflected the culture and beliefs of our people, showing in particular Filipino traits such as faith in God, love of family, and optimism in the face of adversity. These traits can all be seen in the films featured in the 28th TIFF.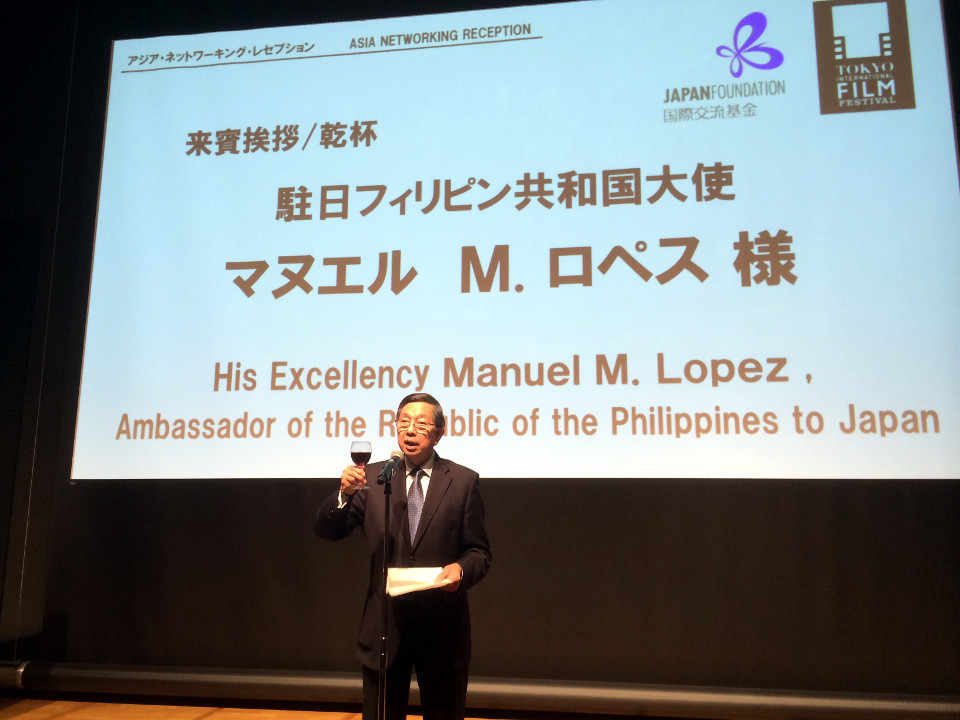 He added that Filipino films "have also helped shaped our people's consciousness. Whether they tackle important events in Philippine history or the everyday life of the Filipino, our films not merely provide entertainment. They raise questions, they make us wonder, they inspire us, and they make us burn with passion. Ultimately, they make us more aware of the positive and the negative in our lives."
In his toast, the Ambassador thanked Mr. Hiroyasu Ando, President of The Japan Foundation, and Mr. Yasushi Shiina, Director General of the Tokyo International Film Festival, for their support of the Filipino films in this year's TIFF.